Archive for the 'Configuration' Category
Written by BinnyVA on September 17, 2007 – 10:47 pm -
Wouldn't it be great if you could just press a keyboard combination from any app and your player pauses? Winamp(version 5 onwards) had this feature if you enabled a plugin called Global Hotkeys. You can't do this in XMMS – but you can set up KHotkeys or Input Action to do it for you.
This is an extremal cool feature of KDE(sorry – no support for Gnome). You can access this feature by opening up Control Panel->Regional & Accessability->Input actions. You could configure it to give some commands to XMMS when you press a shortcut key.
The Examples group already have a XMMS action – next. Follow the format of that example to set the shortcuts for other actions in XMMS. I have 3 action in my system…
Play/Pause – Ctrl+Alt+Home
Previous Song – Ctrl+Alt+Page Up
Next Song – Ctrl+Alt+Page Down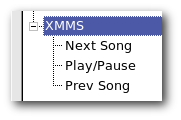 Working of KHotkeys
For this example, I am going to create the Next Song action for XMMS. Click on the New Action Button at the bottom.
First you have to set the action type – the simplest is 'Keyboard Shortcut->Keyboard Input'. This type simulates a specified key input in a given application when you press the shortcut trigger. For example, when you press 'Ctrl+Alt+Page Down' KHotkeys will send the key 'b' to XMMS – that is the shortcut in XMMS to go to the next song.

In the next tab, you can set up a shortcut trigger(Say Ctrl+Alt+Page Down).

The 'Keyboard Input Settings' tab does all the major work – it decides the key to be send and the application to which the key must be send. In our example, the Keyboard Input is 'b'(XMMS Shortcut for the next Song).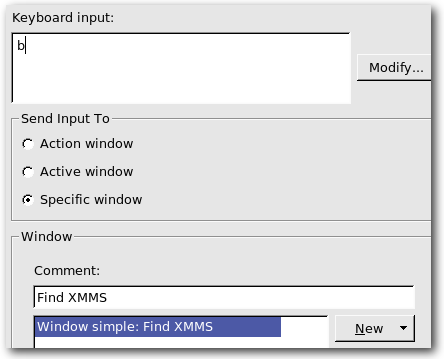 Next click on New->Simple Window in the Window section. Now open XMMS, click on the 'Autodetect', and then click on XMMS. This will populate the fields of the Window popup. We only need the 'Window Class' – change the drop down to the 'Is' option.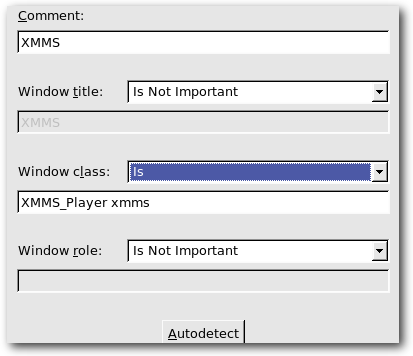 Now click the Apply button.
That's it – open up XMMS and play any song. If you press Ctrl+Alt+Page Down, XMMS will skip to the next song.
Try doing other things with KHotkeys – it is a powerful tool.
Posted in
Applications
,
Audio
,
Configuration
,
KDE
|
3 Comments »
Written by BinnyVA on August 14, 2007 – 11:23 pm -

Numlock is something that should be always on. I don't understand why it is often off at start up. If that is the case for your system, this page will help you to turn on the Numlock as system start up in Linux.
BIOS
There is an option in BIOS that lets you set the status of Numlock at start up. You will have to search around for this one – it is located in different places in different BIOS versions. Make sure that it is on.
KDE
If the BIOS trick did not solve the issue, KDE has a configuration option where this can be set. That's why I love KDE – whatever you want, there is an option for that…
Control Panel -> Peripherals -> Keyboards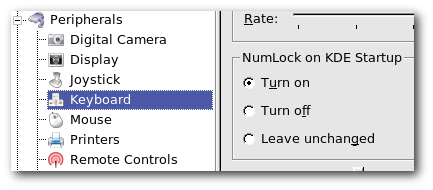 numlockx
It you still have the problem, install the program called 'numlockx'. This will turn on the Numlock at start up.
Posted in
Configuration
,
KDE
|
14 Comments »
Written by BinnyVA on August 2, 2007 – 9:30 pm -

I have very specific tastes about how my system should look. I prefer the lean and fast appearance. This is one of the main reasons why I like KDE so much – you can customize the system to perfection. Gnome does not have this much options.
To modify the looks and shortcuts for the system, take KDE Menu->Control Center. Go Wild!!
This is how I have set up my system…
Appearance & Themes
Launch Feedback
Busy Cursor = Passive Busy Cursor
Screen Saver
Start Automatically = Off
Style
Widget Style = MS Windows 9x
Enable Tooltips = Off

Effects
Window Decorations
Window Decorations = KDE2
Draw Titlebar stipple effect = Off
Draw Gradients = Off

Buttons

Show window button tooltips = Off
Use custom button positions = On
Button Order = Menu, All Windows, Above others, Title, Minimize, Maximize, Close
Desktop
Behavior -> General
Multiple Desktops
Panels
Arrangement -> Size = Normal (Bigger Main Panel)
Menus
Quick Browser Menu -> Maximum number of Entities = 25
Quick Start Menu Items -> Maximum number of Entities = 0 (Hides the 'Recently used software' at the top of the KDE Menu)
Appearance
Enable icon Mouseover effects = Off
Show Tooltips = Off
Taskbar
Show Windows from all desktops = Off
Sort alphabetically by application name = Off
Group Similar tasks = Never
Window Behavior
Titlebar Actions

Titlebar Double-Click = Maximize

Moving

Display contents in moving windows = Off
Animate minimize and restore = Off

Advanced

Active Desktop Borders -> Only When moving windows = On
Regional & Accessibility
Keyboard Shortcuts
Too many changes to list.
Sound & Multimedia
System Notifications -> Turn Off All 'Sounds'
Posted in
Configuration
,
KDE
|
No Comments »
Written by BinnyVA on July 14, 2007 – 11:23 pm -

Most site uses fonts that are available on Windows – if you want to view sites as the designer of that site intended, you need these fonts. And since I am a Web Developer, and spend most of my time on various sites, I had to install it.
Its not as easy as installing other software – but its possible. This is how you do it in Fedora 7…
Download the MS Core Fonts Smart Package File and save it as msttcorefonts-2.0-1.spec
Install rpm-build and cabextract packages
yum -y install rpm-build cabextract
Build the Core Fonts package…
rpmbuild -ba msttcorefonts-2.0-1.spec
Install the package…
rpm -Uvh /usr/src/redhat/RPMS/noarch/msttcorefonts-2.0-1.noarch.rpm
More Details…
Posted in
Configuration
,
Desktops
,
Fedora
|
3 Comments »
Written by BinnyVA on July 7, 2007 – 11:12 pm -
Konqueror is one of my favorite Linux applications. But as a File manager, it has a slight problem – the sidebar. I have never used it. I cannot understand why it is turned on by default. It is easy to hide it by pressing F9 – but I want to turn it off permanently.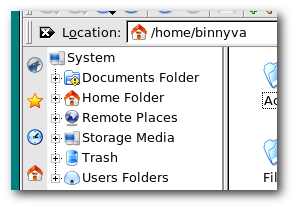 First, open a folder using Konqueror.
Window->Hide Navigation Panel(F9)
Settings->Save View Profile(File Management)
Overwrite the existing File Management profile
Restart Konqueror – this time the sidebar will be hidden.
If you want to see the sidebar again, just press F9.
Posted in
Applications
,
Configuration
,
Desktops
,
KDE
|
3 Comments »
Written by BinnyVA on July 2, 2007 – 9:58 pm -

Fedora does not include MP3 support out of the box. This is because MP3 is a proprietary format. Fortunately, enabling MP3 support in Fedora 7 is very easy.
First thing to do is enable the Livna repository for Yum.
Run these commands as root
wget http://rpm.livna.org/fedora/7/i386/livna-release-7-2.noarch.rpm
rpm -ivh livna-release-7-2.noarch.rpm
The next step is to install all the necessary libraries. This is what I did…
yum install  gstreamer-plugins-ugly gstreamer-plugins-bad xine-lib-extras-nonfree
Posted in
Audio
,
Configuration
,
Fedora
|
3 Comments »
Written by BinnyVA on June 25, 2007 – 9:12 pm -

The default Linux bootloader, Grub, has a 5 second delay in booting. This is provided so that the user has the time for selecting another Kernel/OS. But most users(like me) use just one Kernel. For us this extra 5 second is wasted time.
My windows-supporting brother often makes fun of Linux for its slow boot time. Our 'Windows Vs Linux' debates usually go like this…
My Brother: "Linux takes too long to boot."
Me : "Windows may be faster to boot – but there is nothing in it that makes it worthwhile to boot into."
Brother: "Linux takes too long to boot."
Me : "The features in Linux makes it worth the boot time."
Brother: "Linux takes too long to boot."
Me : "Whatever…"
Naturally this motivated me to find ways to speed up my booting. Disabling the Grub delay is one of these methods.
Its very easy to do too – if you are comfortable with the terminal.
Become root (su -)
Edit /boot/grub/menu.lst (pico /boot/grub/menu.lst)
Find the line 'timeout=5'
Change that to 'timeout=0'
Save the changes (Ctrl+O)
Exit (Ctrl+X)
Restart to see the difference.
Posted in
Configuration
|
1 Comment »
Written by BinnyVA on June 18, 2007 – 3:22 pm -
You can speed up the booting process a lot by disabling the services you do not need. Another advantage of disabling unwanted services is that you can free up a lot of RAM. Fedora has a utility to make this very easy. In other distros you will have to edit the files in /etc/init.d folder.
First run the 'Service Configuration' utility.
KMenu > Administration > Server Settings > Services Service Management
Or run 'system-config-services'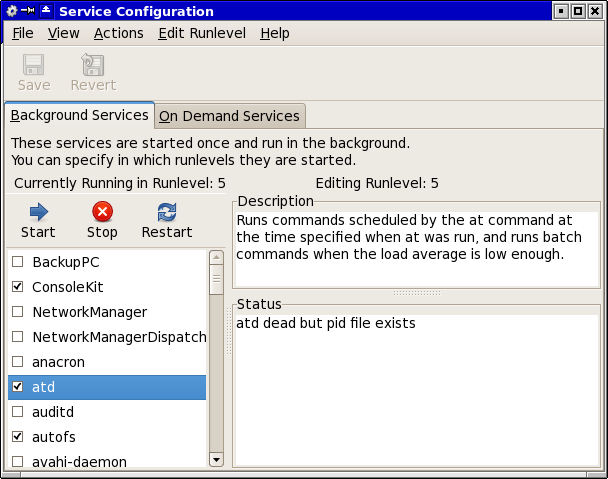 Then disable all the services that you will not need. For more information on what to disable/enable here, go to Services in Fedora 7. That should give you an idea about which all service must be enabled.
List of all the enabled services on my system…
ConsoleKig
atd
autofs
cpuspeed
crond
haldaemon
httpd
iptables
irqbalance
kudzu
lm_sensors
Mussagebus
mysqld
nasd
network
readahead_early
readahead_later
smartd
syslog
After all configuration is done, click 'Save'. You will notice the difference on the next boot.
Posted in
Applications
,
Configuration
,
Fedora
|
No Comments »