Archive for the 'Desktops' Category
Written by BinnyVA on February 6, 2009 – 12:59 am -

I have upgraded my laptop(Kubuntu 8.10) to KDE 4.2. And all is well. The laptop did not, I repeat, did not explode. As a matter of fact, its been on KDE 4.2 for the last whole week – I never got to write anything about it because of my busy schedule. For the rest of the article, I have to write 'KDE 4.2' lots of time. To save some time, I am going to short it to 42. Seems appropriate. So when ever you see '42', mentally replace it with 'KDE 4.2'
42 looks good. And by 'looks good' I don't mean all those fancy effects. I mean it's usable – unlike its 4.x predecessors. You can actually get things done on it. You don't have to hit save every other second because you know that the inevitable crash is just around the corner. 42 fixes most of the glaring errors in the earlier releases.
And it does look good – yes, visually this time. They really got into gradients and shadows in this release. Lots of fancy effects as well. Some of them are actually useful, to my surprise. Usually, I just ignore the shiny things – but the 'Present Windows' mode have changed my mind. It is a effect that actually has a use. To enable it, go to System Settings > Desktop > Desktop Effects. Now set the 'Effect for Switching Windows' to Present Windows.
For all you screenshot fans, here is a nice one…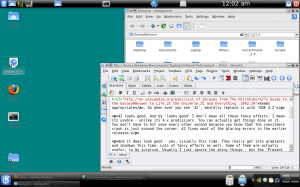 Still, I have some complaints…
Missing Widgets/Plasmoids/Whatever
Command Widget

I want a input area in my panel that can be used to execute commands. The new Run dialog is useless for this purpose.

Bookmark Widget

In the old KDE, there was an option to add the Konqueror bookmarks to the panel – this was very, very useful for me. I cannot find this in the new version.
I am not really worried about these – I am sure the KDE team will add these soon. If they fail, there is always KDE-Look.org. If they don't have one, well, I could always write one myself. Tinkerability is one of the main reason I love FOSS!
Bugs
There is still a few bugs left – and for some reason, most of the bugs I notice seems to be in the panel side.
I have two panels – the bottom(with taskbar, system tray, pager, etc) and top panel(clock, quick launch, etc). Unfortunately, my top panel is having a lot of troubles. I cannot position the icons correctly – some widgets(like clock, quick launch, etc.) try to take up way more space that they actually need.
Also the folder view desktop mode seems to have a problem remembering the icon positions.
Again, not too worried – nothing big enough to cause me any trouble.
Kinda Crashy
Even though 42 is much more stable than 4 or 4.2 beta(Nightly neon) its still has a long way to go before it can reach the reliability of KDE 3.5. Still, since I am working on a laptop and not on a server, 42 is more than enough.
Anyway, whenever 42 crashes on you, use this mantra, as I do. Just tell yourself…
It could be a lot worse – I could be using Windows
Tags:
42
,
KDE
,
kde4
,
review
,
shiny
,
stable
Posted in
KDE
,
Opinion
,
Reviews
,
Ubuntu
|
9 Comments »
Written by BinnyVA on December 25, 2008 – 12:23 am -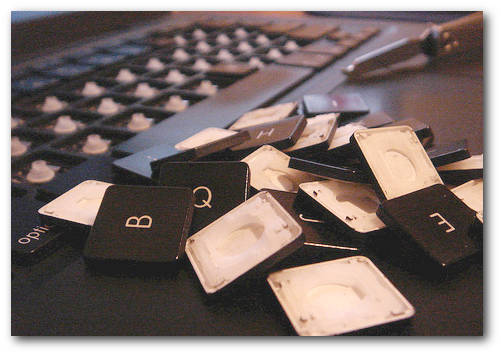 Dvorak is an alternative keyboard layout. Most systems(like 99% of systems) are configured in the Qwerty layout. But some people(like me) have opted for a better layout – Dvorak. Unfortunately, since most people use Qwerty, the support for Dvorak in most OSes/Window Managers leaves a lot to be desired. So I decided to do a comparison of how the major window manages supports Dvorak.
Note: I am biased towards KDE – keep that in mind while going through the article.
Shortcuts
The most biggest problem faced by anyone who switches to the Dvorak layout is the shortcuts problem. Basically, most keyboard shortcuts are created with Qwerty users in mind. Think of the most commanly used shortcuts…
Save – Ctrl+S
Quit – Ctrl+Q
Refresh – Ctrl+R
Find – Ctrl+F
Copy – Ctrl+C
Paste – Ctrl+V
Cut – Ctrl+X
Undo – Ctrl+Z
All that can be done using the left hand in the Qwerty layout – very useful because the right hand might be on the mouse. Also, after a lot of use, these shortcuts becomes muscle memory – you will be pressing the keys without any searching.
But once you move over to Dvorak, these keys are scattered all over the keyboard – most of them needs both hands to press. But a bigger problem is muscle memory – you will be pressing the Qwerty position for the shortcuts even after you have switched over to Dvorak. For example, the 'S' key in Qwerty becomes the 'O' key in Dvorak – every time you try to save a file, you will be calling the open function. Very irritating.
KDE
In KDE you can solve this problem by remapping the shortcut keys. One great feature of KDE is that you can assign shortcuts to almost anything. And an alternative shortcut is available as well. So for, say, Copy, I have assigned the shortcut 'Ctrl+C' and 'Ctrl+J'('C' key becomes 'J' in Dvorak) – so the shortcuts work in Dvorak as well. This makes it easier to switch to Dvorak – but it will take some time to make all the configurations. Another method is to relearn all shortcuts in Dvorak mode – this is what I did eventually.
Gnome
Gnome has a better way of doing this – all you have to do is add the Keyboard Indicator Panel widget. When you are in Dvorak mode and you press the left Ctrl key, it remaps the keyboard to Qwerty mode. So Ctrl+S stays as save in Dvorak mode as well. You will be typing in Dvorak – but when you press the Ctrl key to save, Gnome will remap your keys before you hit the 'S' key – calling the save function. That's neat.
It might be a bit disorienting at first, but I think its a better approach than KDE.
Score
Switching Layouts
You need an easy method to switch layouts – especially if others use your system occasionally. One easy way to do is to click on the keyboard layout indicator on the panel. This is possible in both KDE and Gnome – if you add that widget to your panel.
KDE
In KDE I used to set the shortcuts Ctrl+Alt+L and Ctrl+Alt+P to switch the layouts(P becomes L when switching from Qwerty to Dvorak). But an easier way do this may be to set both Shift key as the switch shortcut. Go to System Settings > Regional & Language > Keyboard Layout > 'Advanced' tab. Then find the 'Both Shift keys together switches layout' option(under Layout Switching). Enable that. Now if you press both shift keys, you can toggle your layout.
Gnome
You can do the same thing in Gnome. Go to System > Preferences > Keyboard > 'Layout Options' tab. Enable the 'Both Shift keys together switches layout' option under Layout Switching.
Actually you can set this option in the /etc/X11/xorg.conf file – just add the line
Option "XkbOptions"     "grp:shift_toggle"
in the Section InputDevice" section.
Score
Both KDE and Gnome gets a cookie.
Layout Indicator
Its important to know which layout is activated – you can do this by pressing the 'S' key – if the outputted char is 'S' then its the qwerty layout. If it is 'O', then you have the Dvorak layout. But it is very helpful to have a visual indicator as well. Both KDE and Gnome provides this option.
KDE
Go to System Settings > Regional & Language > Keyboard Layout. Change label of the layouts to 'Dvo' and 'Qwe' – you can see the label appear in the indicator in the system bar.
Gnome
You have to add the Keyboard Layout Indicator panel widget for this. Now when you switch between layouts, they are shown as USA and USA2. Not as good as what KDE does.
Score
Password Entry
Gnome
Choose System > Lock Screen. The dialog that accepts the password don't have a layout chooser. It shows the current layout – as USA – you have to guess wether it is Dvorak or Qwerty. The password entry will not help you – you cannot see the characters being entered. If you know Dvorak, you can get in by guessing. But if you don't know Dvorak, you will not be able to get in even if you know the password.
KDE
In KDE, this dialog is much better – it shows the current layout – and also provides you an option to switch between them.
Final Score
Related Links
Tags:
comparison
,
dvorak
,
keyboard
,
layout
,
qwerty
Posted in
Gnome
,
KDE
,
Opinion
|
4 Comments »
Written by BinnyVA on December 3, 2008 – 11:59 pm -
A few days ago, I bought a Laptop – the Dell Vostro A840. Specs…
Intel Dual Core
1 GB RAM(I upgraded to 2 GB)
120 GB Harddrive
OS: Preloaded with Ubuntu 8.04
Since its preloaded with Ubuntu, every thing worked without much problem. Wifi autoconnects, display look good, all the laptop specific buttons work without any problem(did not check suspend/hibernate). So what's my next step? Uninstall Ubuntu, of course.
Don't worry, I am not going to install Windows on it. No, I am not going for Fedora either(I use Fedora 8 on my desktop). I installed the latest version of Kubuntu – 8.10 or the 'Intrepid Ibex'. As a matter of fact, I installed Xubuntu and then install the kubuntu-desktop package(I couldn't get a Kubuntu CD). So now I have Kubuntu 8.10 with KDE 4.1. If my last experience with KDE4 has taught me anything, it is that KDE4 is nowhere near ready. Well, KDE 4.1 is much better – but still it has a long way to go before I am going to switch my desktop over to it.
My main complaints about KDE 4.1…
Lots of bugs
KHotKeys don't work
Panel setting don't get saved – the position of the icons gets reset
No Icons in Desktop! (I hear 4.2 has fixed this)
And more.
Anyway, I am going to continue using KDE 4.1 on the Lap. Hopefully they will release the stable release of 4.2 soon and I'll upgrade to that.
After I moved to Kubuntu there were a lot of 'driver missing' issues. Wifi stopped working. Some laptop LEDs stopped functioning. So I begun the driver hunt. The DVDs provided with the laptop had linux drivers in them – but they where RPMs – not DEB packages. I cannot understand why Dell did that either. If you preinstall ubuntu, provide the .deb packages.
Before long, I stumbled upon an excellent tutorial on how to enable Atheros wireless. That got my Wifi up and running. The LED don't work yet, but who cares.
So what does this mean for you visitors? Expect some posts on Laptop specific topics as well as some on Ubuntu/Kubuntu. Earlier I only wrote about Fedora.
This is what my laptop looks now…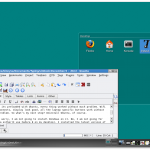 Tags:
hardware
,
kde4
,
kubuntu
,
laptop
,
review
,
Ubuntu
Posted in
KDE
,
Reviews
,
Ubuntu
|
14 Comments »
Written by BinnyVA on October 7, 2008 – 12:23 am -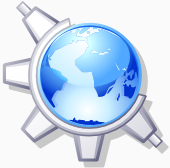 If you are using Konqueror and have not used custom service menus, you are missing out. Just like the Nautilus Scripts in Nautilus, Konqueror also has the ability to customize the context menus. This post will show you how to do it.
We are going to create two different kind of service menus – one will create an item in the action part of the right click menu. The next type will create a submenu in the 'actions' menu with multiple menu items. Hopefully, you will get an idea about how to do it by yourself.
Single Item Service Menu
This service menu will create a menu item in the Action section of the context menu for all ISO files. For this to work as intended, the mimetype for ISO file must be application/x-iso .
Open ~/.kde/share/apps/konqueror/servicemenus folder
Create a file with the name 'PlayISO.desktop' – the name can be anything – but the extension must be '.desktop'
Enter the following content…
[Desktop Entry]
ServiceTypes=application/x-iso
Actions=PlayISOInXine

[Desktop Action PlayISOInXine]
Name=Play ISO File in Xine
Icon=player_play
Exec=xine -pq --no-splash dvd:/%f

Now lets see a line by line explanation of the code.
[Desktop Entry]

Start the file with this line.

ServiceTypes=application/x-iso

This decides which all file types must this service menu be shown to. You can find the mimetype for various files by taking Control Center > KDE Components > File Associations. Then search for the extension in the given text field.

Actions=PlayISOInXine

Name of the action – this will be defined in the next line

[Desktop Action PlayISOInXine]

The definition of the 'PlayISOInXine' action goes here.

Name=Play ISO File in Xine

The text to be shown in the menu item.

Icon=player_play

The icon to be used in the menu. The icon can be an absolute path or the file name of an image in your current theme(for example, if you are using Crystal SVG theme, then the images you can use is in the folder '/usr/share/icons/crystalsvg/16×16/actions').

Exec=xine -pq –no-splash dvd:/%f

The command to be executed when the menu item is clicked. The %f stands for the full name of the file. The other options are listed in the documentation.
This is the end result…

Submenu Service Menu
This sample will give you the option to convert the selected html file to a plain text file or a compressed archive. The code looks like this…
[Desktop Entry]
ServiceTypes=text/html
Actions=convertToText;convertToZip
X-KDE-Submenu=Convert

[Desktop Action convertToText]
Name=Convert To Text
Icon=txt
Exec=lynx -dump "%f" > "`dirname "%f"`/`basename "%f" ".html"`.txt"

[Desktop Action convertToZip]
Name=Compress as Zip
Icon=tar
Exec=zip "`dirname "%f"`/`basename "%f" ".html"`.zip" "%f"

Again, a line by line explanation…
[Desktop Entry]

You know.

ServiceTypes=text/html

This is only for HTML files – so we specify the mimetype as text/html

Actions=convertToText;convertToZip

We have two different actions instead of just one as in the last case. So we provide the name of both actions separated by a ';'.

X-KDE-Submenu=Convert

This will make sure its shown in a submenu – and that the name of the submenu is Convert.

[Desktop Action convertToText]

Defining the first action – convertToText

Name=Convert To Text

The label of the menu item

Icon=txt

And its icon

Exec=lynx -dump "%f" > "`dirname "%f"`/`basename "%f" ".html"`.txt"

This command will convert a html file to a text file and put the resulting file in the same folder as the html file.

[Desktop Action convertToZip]

Defining the next action – convertToZip

Name=Compress as Zip

Label

Icon=tar

And Icon

Exec=zip "`dirname "%f"`/`basename "%f" ".html"`.zip" "%f"

The command to compress the html file as a zip file.
If done correctly, it should look something like this…

Related Links
Tags:
action
,
context
,
desktop
,
konquoror
,
menu
,
script
,
service
Posted in
Applications
,
Configuration
,
KDE
|
2 Comments »
Written by BinnyVA on July 26, 2008 – 10:47 pm -

Windows has a nice feature in Networking – you just configure the IPs correctly, and the network sharing "magically" works. In Linux we will have to manually configure Samba or some other similar tool to share files between two linux systems – and that's a bit daunting for a new user. But there is an easier way – using SSH.
SSH or Secure Shell is a program for logging into a remote machine and executing commands on a that machine. Don't worry – you won't have to type commands to transfer files – there are GUI clients that supports SSH protocol – for example, the great Konqueror.
SSH is installed and turned on in most distros – so chances are you are running an SSH server at the moment. But if its not installed by default, you can install it using these commands…
In Fedora/Red Hat
yum install openssh
In Ubuntu/Debian
apt-get install openssh
After installing it, you have to activate it in the Services configuration utility. Once that is done, SSH will turned on at boot. Make sure the remote machine have SSH installed and running before trying to connect to it.
An Example Implementation
I use SSH to transfer files between my system and my brothers system. This will give you an overview of the network…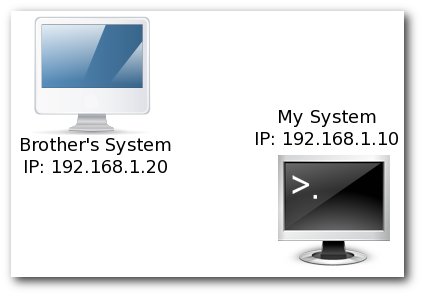 Both the systems have SSH enabled. Now if I want to get some files from my brother's system, all I have to do is open Konqueror and enter this address in the Address bar: fish://username@192.168.1.20
That is fish://[Remote User]@[Remote Machine's IP/Name].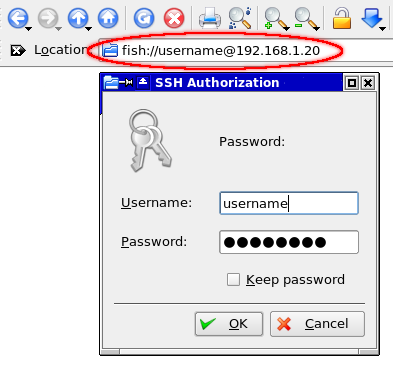 This will show a password prompt – where you have to input the password of the remote user. Once that is done, you will see all the files in the remote machine that is accessable by the user you logged in as. All operation you are used to in Konqueror are still supported – Copy/Paste, Drag and Drop etc – they will work between the local system and the remote machine.
If you are a Gnome user, this is possible in Nautilus as well. Instead of fish://username@192.168.1.20 , you have to enter ssh://username@192.168.1.20 in the address bar – protocol is ssh:// instead of fish://.
Limitations
Keep in mind that this is practical only for small home networks. If you are implementing a large network with permission settings, shares and stuff, go with Samba. SSH is not a choice there.
Tags:
fish
,
konquoror
,
local
,
network
,
remote
,
share
,
ssh
Posted in
KDE
,
Networking
,
Tools
|
4 Comments »
Written by BinnyVA on May 20, 2008 – 10:11 pm -

As promised, I installed Fedora 9 – and promptly moved back to Fedora 8. The problem is not Fedora – its KDE. KDE 4 is not yet ready for normal use. And if you are a KDE user, I would suggest that you stay away from Fedora 9.
The purpose of KDE 4 is to make KDE compactable with Qt4. Its not for actual use. Sure, it could be used as a desktop, but it will lack many features that you expect in KDE.
I am surprised that Fedora decided to include KDE4 – despite its 'alpha-ness'. But they have their reasons
Problems With KDE4
Customizable Panel

I could not find any options to customizing the panel – KDE 3.5 have a lot of options.

Many Options/Settings are missing.

It will be coming in the future releases – but its missing now.

Desktop Icons have no consistency

Some icons are bigger than others. On the other hand, you can rotate these icons – but I fail to see any practical application for that.

And many more…

Random crashes, dolphin, irremovable 'Add Plasmoid' option on the desktop, etc.
Long story short, I am back in Fedora 8. And I will be on it until Fedora 10 is out. And even then, I'll wait some time before upgrading.
Links
Fedora 9/KDE4 Positive Reviews
And the Negative Ones…
Tags:
Fedora
,
install
,
KDE
,
review
,
upgrade
Posted in
Fedora
,
KDE
|
9 Comments »
Written by BinnyVA on April 6, 2008 – 1:43 am -
I am taking a break from the regular MP3 Players Series for a special announcement. The first stable version of Frees has been released. Frees is a GUI tool that shows the Hard Disk space usage. It is written in Python using the GTK2 framework. This will only work in linux as it depends on the 'df' command. Frees just parses the output of df and shows it in a graphical format.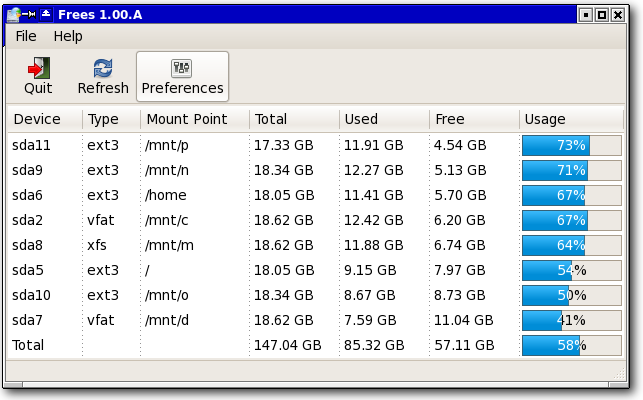 Features
Simple/Easy to use
Frees features a very simple interface. Granted, some of the columns like Device, Type and Mount Point may sound a bit geeky – but hey, you are using Linux. Its supposed to be geeky.
Ability to Remove Drives from the List
There may be some drives that you want to hide in the list. Like, say you have a 10 mb /boot partition – you have no user-level use for that. In Frees you can hide that partition in the list. Go to Preferences > Drives and check off the drive you want to hide.
Shows Total Space
The last item in the list is the 'Total' row. It shows the total space of your harddisk. Note that this shows the total of all mounted drives – so it may not be an accurate measure of your total HDD space.
Competition
KDiskFree
There is an alternative to this program – KDiskFree. Its a KDE App…
KDiskFree displays the available file devices (hard drive partitions, floppy and CD drives, etc.) along with information on their capacity, free space, type and mount point. It also allows you to mount and unmount drives and view them in a file manager.
I was not all that satisfied with KDiskFree – that's why I created Frees. These are the advantages Frees has over KDiskFree…
KDiskFree cannot hide drives in the list.
KDiskFree includes mounted images, CD ROM/DVD ROM devices as list items. Frees ignores these items.
KDiskFree does not show the file system types for all drives – many are shown as '?'
Frees have the 'Total HDD Space' feature – KDiskFree does not have that.
But KDiskFree has one advantage over Frees – you can mount drives from within the application. You cannot do that in Frees.
df Command
The other alternative to Frees is the 'df' command. Here is the man entry for df…
df displays the amount of disk space available on the file system containing each file name argument. If no file name is given, the space available on all currently mounted file systems is shown.
df is not 'user friendly' in the classical sense of the term – its a terminal application. Unlike KDiskFree, I do not consider df to be a competition to Frees. As a matter of fact, Frees uses df command internally to get the space usage data.
Frees Links
Now, your job is to download this application and try it out. Send me any bugs you find and your suggestions.
Tags:
announcement
,
app
,
drives
,
free
,
frees
,
Gnome
,
gtk
,
hdd
,
python
,
space
Posted in
Applications
,
Gnome
,
News
|
5 Comments »
Written by BinnyVA on March 22, 2008 – 11:27 pm -

I expected my MP3 player series will end with the last post – but the comments pointed to some other players. Two players stood out – so I decided that I will review them as well. The first one is Listen. Its a Gtk player written in Python.
Features
Supports Shoutcast Webradio
Supports Podcast
Multiple Display modes
Wikipedia Integration
Native Lyrics Support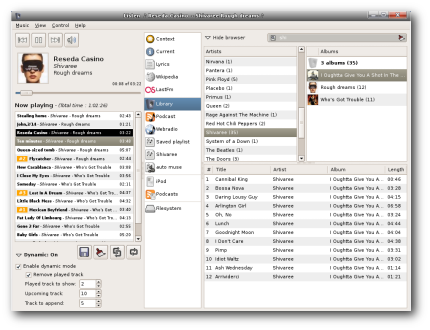 Disadvantages
No Global Shortcuts

At least, none that I could find.

"Interesting" Layout
Advantages
OSD

Shows up on mouse hover and track change.

Tray Icon

Supports play/pause with middle click.

Music Library

Listen has a music library – but it supports only a single folder as its library folder.
More Information
Tags:
Audio
,
Gnome
,
gtk
,
listen
,
mp3
,
music
,
player
,
review
Posted in
Applications
,
Audio
,
Gnome
|
7 Comments »
Written by BinnyVA on March 14, 2008 – 11:11 am -

There are no shortage of audio players in Linux. It has everything from command line MP3 players(mpg123) to RAM eating GUI players(like Amarok). With easily available codecs, linux supports almost all available formats.
This is the final post on a series about MP3 Players in linux. This series focuses on dedicated audio players – not video players that can handle audio as well(like mplayer). Without further ado, presenting the top 10 Linux MP3 players…
1. Amarok

amaroK is currently the player of my choice – it rocks. Everything I ever wanted in a MP3 Player and more. It is the clear winner in this field. In my opinion, there is nothing that beats amarok even if you look at Windows and Mac MP3 players as well.
More Information on Amarok MP3 Player
2. XMMS

A Winamp clone. Simple and user friendly, it is very popular on linux. It does not have a large feature set – but I am going to give it second place due to its popularity.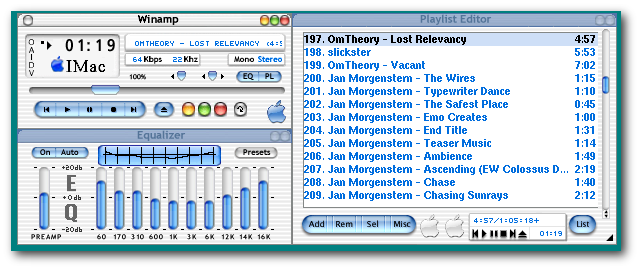 Official Sites for XMMS Player
3. RhythmBox

Rhythmbox Music Player is a music player and library for tagged files, that support various music formats. It was inspired by Apple's iTunes. Although it is designed to work well under the GNOME Desktop, I had no issues with it in KDE.
RhythmBox – Gnome Music Player
Official Sites
4. Exaile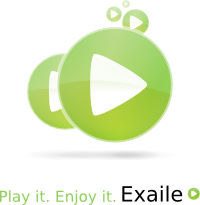 Exaile is a music player aiming to be similar to KDE's Amarok, but for GTK+ and written in Python. It incorporates many of the cool things from Amarok (and other media players)
Exaile – Music Player for Gtk+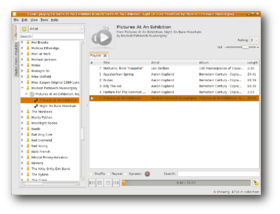 Official Sites
5. Audacious

Audacious is not among the 'star media-players' in Linux – so many people never try it out. But those who have tried it out like it. For the sake of the article, I installed it – and I liked it. I even considered switching from amaroK to Audacious.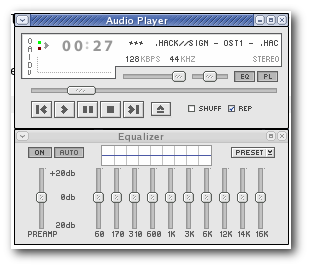 Official Sites
6. Banshee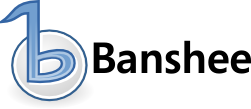 Banshee is an MP3 players for Gnome. You can import, organize, play, and share your music using Banshee's simple, powerful interface.
Banshee – Music Management and Playback for GNOME
Banshee Official Sites
7. SongBird

SongBird is an MP3 player built on the XUL framework. It's a desktop media player mashed-up with the Web.
SongBird – The Firefox of MP3 Players
Official Sites
8. Juk

An audio jukebox that supports collections of MP3, Ogg Vorbis and FLAC files. It is a part of the kdemultimedia package.
9. mpg123/mpg321
mpg123 is a fast, free, minimalist, console MPEG audio player software program for UNIX and Linux operating systems.
mpg123/mpg321 – The Command Line MP3 Players
Official Sites
10. Other MP3 Players and Media Software…
Instead of putting the last MP3 Player here, I am going to list the MP3 software that did not make it to the list…
So, which is your favorite MP3 Player? Leave a comment…
Update: I reviewed two more players…
Tags:
Audio
,
Gnome
,
KDE
,
list
,
mp3
,
music
,
player
,
review
,
software
,
top10
Posted in
Applications
,
Audio
,
Gnome
,
KDE
|
96 Comments »
Written by BinnyVA on February 19, 2008 – 12:08 am -

If you are using Fedora 8 with KDE you may have noticed an interesting bug. Once you open some Gnome apps(for example, Exile, all the fonts in the KDE applications becomes one size smaller.
If this happens, the only way to fix it is to restart the X server – or so I thought. At first, I thought it was the issue of just one application – namely RhythmBox.
But I just found that there is a simple fix for this problem…
Run the command 'gnome-appearance-properties'
Go to the 'Fonts' Tab
Click on the 'Details' Button at the bottom
Change the Resolution to 96 Dots per Inch(DPI)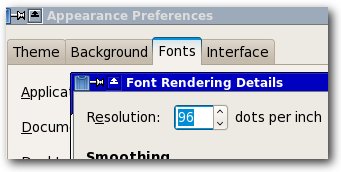 That should solve your problem.
This issue appears only if your screen resolution is bigger than normal – mine is 1440×900.
Tags:
dpi
,
Fedora
,
font
,
KDE
,
resolution
,
size
Posted in
Fedora
,
Gnome
,
KDE
,
Troubleshooting
|
No Comments »