Archive for the 'Distros' Category
Written by BinnyVA on February 6, 2009 – 12:59 am -

I have upgraded my laptop(Kubuntu 8.10) to KDE 4.2. And all is well. The laptop did not, I repeat, did not explode. As a matter of fact, its been on KDE 4.2 for the last whole week – I never got to write anything about it because of my busy schedule. For the rest of the article, I have to write 'KDE 4.2' lots of time. To save some time, I am going to short it to 42. Seems appropriate. So when ever you see '42', mentally replace it with 'KDE 4.2'
42 looks good. And by 'looks good' I don't mean all those fancy effects. I mean it's usable – unlike its 4.x predecessors. You can actually get things done on it. You don't have to hit save every other second because you know that the inevitable crash is just around the corner. 42 fixes most of the glaring errors in the earlier releases.
And it does look good – yes, visually this time. They really got into gradients and shadows in this release. Lots of fancy effects as well. Some of them are actually useful, to my surprise. Usually, I just ignore the shiny things – but the 'Present Windows' mode have changed my mind. It is a effect that actually has a use. To enable it, go to System Settings > Desktop > Desktop Effects. Now set the 'Effect for Switching Windows' to Present Windows.
For all you screenshot fans, here is a nice one…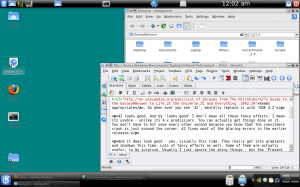 Still, I have some complaints…
Missing Widgets/Plasmoids/Whatever
Command Widget

I want a input area in my panel that can be used to execute commands. The new Run dialog is useless for this purpose.

Bookmark Widget

In the old KDE, there was an option to add the Konqueror bookmarks to the panel – this was very, very useful for me. I cannot find this in the new version.
I am not really worried about these – I am sure the KDE team will add these soon. If they fail, there is always KDE-Look.org. If they don't have one, well, I could always write one myself. Tinkerability is one of the main reason I love FOSS!
Bugs
There is still a few bugs left – and for some reason, most of the bugs I notice seems to be in the panel side.
I have two panels – the bottom(with taskbar, system tray, pager, etc) and top panel(clock, quick launch, etc). Unfortunately, my top panel is having a lot of troubles. I cannot position the icons correctly – some widgets(like clock, quick launch, etc.) try to take up way more space that they actually need.
Also the folder view desktop mode seems to have a problem remembering the icon positions.
Again, not too worried – nothing big enough to cause me any trouble.
Kinda Crashy
Even though 42 is much more stable than 4 or 4.2 beta(Nightly neon) its still has a long way to go before it can reach the reliability of KDE 3.5. Still, since I am working on a laptop and not on a server, 42 is more than enough.
Anyway, whenever 42 crashes on you, use this mantra, as I do. Just tell yourself…
It could be a lot worse – I could be using Windows
Tags:
42
,
KDE
,
kde4
,
review
,
shiny
,
stable
Posted in
KDE
,
Opinion
,
Reviews
,
Ubuntu
|
9 Comments »
Written by BinnyVA on December 3, 2008 – 11:59 pm -
A few days ago, I bought a Laptop – the Dell Vostro A840. Specs…
Intel Dual Core
1 GB RAM(I upgraded to 2 GB)
120 GB Harddrive
OS: Preloaded with Ubuntu 8.04
Since its preloaded with Ubuntu, every thing worked without much problem. Wifi autoconnects, display look good, all the laptop specific buttons work without any problem(did not check suspend/hibernate). So what's my next step? Uninstall Ubuntu, of course.
Don't worry, I am not going to install Windows on it. No, I am not going for Fedora either(I use Fedora 8 on my desktop). I installed the latest version of Kubuntu – 8.10 or the 'Intrepid Ibex'. As a matter of fact, I installed Xubuntu and then install the kubuntu-desktop package(I couldn't get a Kubuntu CD). So now I have Kubuntu 8.10 with KDE 4.1. If my last experience with KDE4 has taught me anything, it is that KDE4 is nowhere near ready. Well, KDE 4.1 is much better – but still it has a long way to go before I am going to switch my desktop over to it.
My main complaints about KDE 4.1…
Lots of bugs
KHotKeys don't work
Panel setting don't get saved – the position of the icons gets reset
No Icons in Desktop! (I hear 4.2 has fixed this)
And more.
Anyway, I am going to continue using KDE 4.1 on the Lap. Hopefully they will release the stable release of 4.2 soon and I'll upgrade to that.
After I moved to Kubuntu there were a lot of 'driver missing' issues. Wifi stopped working. Some laptop LEDs stopped functioning. So I begun the driver hunt. The DVDs provided with the laptop had linux drivers in them – but they where RPMs – not DEB packages. I cannot understand why Dell did that either. If you preinstall ubuntu, provide the .deb packages.
Before long, I stumbled upon an excellent tutorial on how to enable Atheros wireless. That got my Wifi up and running. The LED don't work yet, but who cares.
So what does this mean for you visitors? Expect some posts on Laptop specific topics as well as some on Ubuntu/Kubuntu. Earlier I only wrote about Fedora.
This is what my laptop looks now…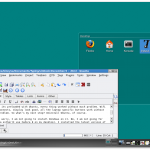 Tags:
hardware
,
kde4
,
kubuntu
,
laptop
,
review
,
Ubuntu
Posted in
KDE
,
Reviews
,
Ubuntu
|
14 Comments »
Written by BinnyVA on May 20, 2008 – 10:11 pm -

As promised, I installed Fedora 9 – and promptly moved back to Fedora 8. The problem is not Fedora – its KDE. KDE 4 is not yet ready for normal use. And if you are a KDE user, I would suggest that you stay away from Fedora 9.
The purpose of KDE 4 is to make KDE compactable with Qt4. Its not for actual use. Sure, it could be used as a desktop, but it will lack many features that you expect in KDE.
I am surprised that Fedora decided to include KDE4 – despite its 'alpha-ness'. But they have their reasons
Problems With KDE4
Customizable Panel

I could not find any options to customizing the panel – KDE 3.5 have a lot of options.

Many Options/Settings are missing.

It will be coming in the future releases – but its missing now.

Desktop Icons have no consistency

Some icons are bigger than others. On the other hand, you can rotate these icons – but I fail to see any practical application for that.

And many more…

Random crashes, dolphin, irremovable 'Add Plasmoid' option on the desktop, etc.
Long story short, I am back in Fedora 8. And I will be on it until Fedora 10 is out. And even then, I'll wait some time before upgrading.
Links
Fedora 9/KDE4 Positive Reviews
And the Negative Ones…
Tags:
Fedora
,
install
,
KDE
,
review
,
upgrade
Posted in
Fedora
,
KDE
|
9 Comments »
Written by BinnyVA on May 13, 2008 – 11:33 pm -
Fedora 9 has been released – I have been waiting for this. For those of you who don't know, Fedora is my distro of choice. I have been using Fedora since Fedora Core 3. And I will be upgrading to the latest release as soon as I get my hands on it.

I have started the download – but I have a 256kbps internet connection – and it will take around 4 days for the download to complete. After the install, I will write a review on it. I can't wait to see the new KDE!
I have began a process of backing up my data so that nothing will be lost during the upgrade. No matter how careful I am, I always manage to loose something in the upgrade. Yeah, I know – Murphy's Law. I hate Murphy. I am waiting to see what I loose this time. Last time it was my database. Luckily I was able to restore it from my backup – but the data entered after the backup was lost.
Fedora 9 Links
Fedora and Me: A History
All Posts in the Fedora Category
Tags:
Fedora
,
linux
,
News
,
release
,
sulphur
Posted in
Distros
,
Fedora
,
News
|
5 Comments »
Written by BinnyVA on February 19, 2008 – 12:08 am -

If you are using Fedora 8 with KDE you may have noticed an interesting bug. Once you open some Gnome apps(for example, Exile, all the fonts in the KDE applications becomes one size smaller.
If this happens, the only way to fix it is to restart the X server – or so I thought. At first, I thought it was the issue of just one application – namely RhythmBox.
But I just found that there is a simple fix for this problem…
Run the command 'gnome-appearance-properties'
Go to the 'Fonts' Tab
Click on the 'Details' Button at the bottom
Change the Resolution to 96 Dots per Inch(DPI)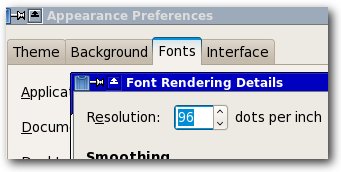 That should solve your problem.
This issue appears only if your screen resolution is bigger than normal – mine is 1440×900.
Tags:
dpi
,
Fedora
,
font
,
KDE
,
resolution
,
size
Posted in
Fedora
,
Gnome
,
KDE
,
Troubleshooting
|
No Comments »
Written by BinnyVA on November 14, 2007 – 5:48 pm -

Today I upgraded my system from Fedora 7 to Fedora 8. The installation process went very smoothly. But once the installation was done, I started the long process of configuring it. That's when I ran into the sound issue in Fedora 8 – and based on the forum posts, so did many others.
Basically, you get this error at KDE startup…
Sound Error Informational Message:
Error while initializing the sound driver:
device: default can't be opened for playback (Permission denied)
The sound server will continue, using the null output device

You will not be able to play any sound – amarok will crash if you try to play anything. But if you run system-config-soundcard(or System -> Administration -> Soundcard Detection), you will be able to hear the test sound. That is because you are running it as root.
Solution 1 – Console-Kit Service
Did you turn of Console-Kit and avahi-daemon startup services using system-config-services? If so, go back and re-enable them.
Run system-config-services(or System -> Administration -> Services)
Find Console-Kit and enable it
Find avahi-daemon, enable it
Restart the system and see if that fixed the problem.
This worked for me – so I did not try any of the following solutions.
Solution 2 – alsa-plugin
If the first solution did not solve the problem, try removing the pulseaudio plugin for alsa by running this command.
yum remove alsa-plugins-pulseaudio
Solution 3 – Permissions
If neither of the above work, open /etc/security/console.perms.d/50-default-perms and add this line to the top…
<sound>=/dev/dsp* /dev/snd/*
And at the end, add this line…
<console> 0666 <sound> 0600 root
Related Links
Hopefully, your problems are solved by now. If not, here are some links to help you further…
More about Fedora 8 in the next post.
Posted in
Audio
,
Configuration
,
Fedora
,
Troubleshooting
|
31 Comments »
Written by BinnyVA on July 14, 2007 – 11:23 pm -

Most site uses fonts that are available on Windows – if you want to view sites as the designer of that site intended, you need these fonts. And since I am a Web Developer, and spend most of my time on various sites, I had to install it.
Its not as easy as installing other software – but its possible. This is how you do it in Fedora 7…
Download the MS Core Fonts Smart Package File and save it as msttcorefonts-2.0-1.spec
Install rpm-build and cabextract packages
yum -y install rpm-build cabextract
Build the Core Fonts package…
rpmbuild -ba msttcorefonts-2.0-1.spec
Install the package…
rpm -Uvh /usr/src/redhat/RPMS/noarch/msttcorefonts-2.0-1.noarch.rpm
More Details…
Posted in
Configuration
,
Desktops
,
Fedora
|
3 Comments »
Written by BinnyVA on July 2, 2007 – 9:58 pm -

Fedora does not include MP3 support out of the box. This is because MP3 is a proprietary format. Fortunately, enabling MP3 support in Fedora 7 is very easy.
First thing to do is enable the Livna repository for Yum.
Run these commands as root
wget http://rpm.livna.org/fedora/7/i386/livna-release-7-2.noarch.rpm
rpm -ivh livna-release-7-2.noarch.rpm
The next step is to install all the necessary libraries. This is what I did…
yum install  gstreamer-plugins-ugly gstreamer-plugins-bad xine-lib-extras-nonfree
Posted in
Audio
,
Configuration
,
Fedora
|
3 Comments »
Written by BinnyVA on June 18, 2007 – 3:22 pm -
You can speed up the booting process a lot by disabling the services you do not need. Another advantage of disabling unwanted services is that you can free up a lot of RAM. Fedora has a utility to make this very easy. In other distros you will have to edit the files in /etc/init.d folder.
First run the 'Service Configuration' utility.
KMenu > Administration > Server Settings > Services Service Management
Or run 'system-config-services'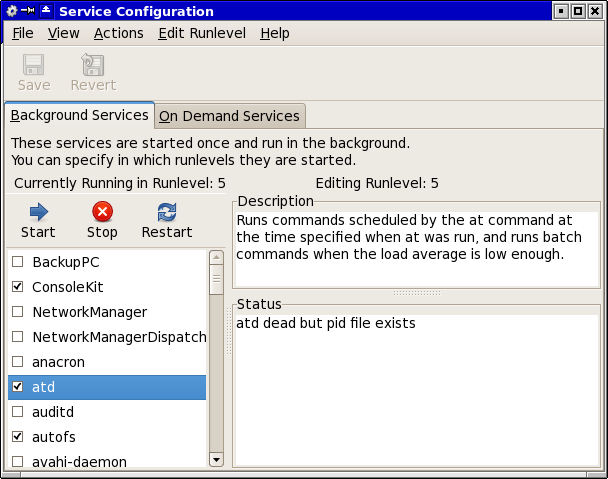 Then disable all the services that you will not need. For more information on what to disable/enable here, go to Services in Fedora 7. That should give you an idea about which all service must be enabled.
List of all the enabled services on my system…
ConsoleKig
atd
autofs
cpuspeed
crond
haldaemon
httpd
iptables
irqbalance
kudzu
lm_sensors
Mussagebus
mysqld
nasd
network
readahead_early
readahead_later
smartd
syslog
After all configuration is done, click 'Save'. You will notice the difference on the next boot.
Posted in
Applications
,
Configuration
,
Fedora
|
No Comments »
Written by BinnyVA on June 8, 2007 – 11:06 pm -

As you know Fedora 7 is out in the open. I finished downloading the ISO images a few days back – yesterday, I installed it. Now I am on Fedora 7.
The Installation
The installation went without a glitch – well there was a small problem – but that is my own fault. When I reached the partition section, I forgot wether my '/' was sda5 or sda6. So I when to the terminal and mounted sda5 and checked its contents. sda5 was '/' and sda6 was '/home'. Then I continued with the procedure. But when the installation started, I got a rude message saying that the installer could not format '/'. The message said that it is a serious error.
Well, I got scared – but then I remembered that I forgot to unmount the sda5 partition. So I restarted the system and tried installation again. There were no problems after that.
Configuration
The installation is complete – now it is time for the great art of configuration. It could take days for me to set up my system exactly as I want it.
Usually I just backup all my 'dot files' and then dump it back after the installation is complete. But this time I am going to configure the system manually.
So, this is the first post in a series on how to configure your Fedora 7 system to my tastes. It is pretty pointless to configure your system to my tastes – but hang around, you will find something interesting.
Posted in
Fedora
|
1 Comment »