Archive for the 'Opinion' Category
Written by BinnyVA on February 6, 2009 – 12:59 am -

I have upgraded my laptop(Kubuntu 8.10) to KDE 4.2. And all is well. The laptop did not, I repeat, did not explode. As a matter of fact, its been on KDE 4.2 for the last whole week – I never got to write anything about it because of my busy schedule. For the rest of the article, I have to write 'KDE 4.2' lots of time. To save some time, I am going to short it to 42. Seems appropriate. So when ever you see '42', mentally replace it with 'KDE 4.2'
42 looks good. And by 'looks good' I don't mean all those fancy effects. I mean it's usable – unlike its 4.x predecessors. You can actually get things done on it. You don't have to hit save every other second because you know that the inevitable crash is just around the corner. 42 fixes most of the glaring errors in the earlier releases.
And it does look good – yes, visually this time. They really got into gradients and shadows in this release. Lots of fancy effects as well. Some of them are actually useful, to my surprise. Usually, I just ignore the shiny things – but the 'Present Windows' mode have changed my mind. It is a effect that actually has a use. To enable it, go to System Settings > Desktop > Desktop Effects. Now set the 'Effect for Switching Windows' to Present Windows.
For all you screenshot fans, here is a nice one…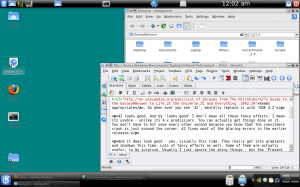 Still, I have some complaints…
Missing Widgets/Plasmoids/Whatever
Command Widget

I want a input area in my panel that can be used to execute commands. The new Run dialog is useless for this purpose.

Bookmark Widget

In the old KDE, there was an option to add the Konqueror bookmarks to the panel – this was very, very useful for me. I cannot find this in the new version.
I am not really worried about these – I am sure the KDE team will add these soon. If they fail, there is always KDE-Look.org. If they don't have one, well, I could always write one myself. Tinkerability is one of the main reason I love FOSS!
Bugs
There is still a few bugs left – and for some reason, most of the bugs I notice seems to be in the panel side.
I have two panels – the bottom(with taskbar, system tray, pager, etc) and top panel(clock, quick launch, etc). Unfortunately, my top panel is having a lot of troubles. I cannot position the icons correctly – some widgets(like clock, quick launch, etc.) try to take up way more space that they actually need.
Also the folder view desktop mode seems to have a problem remembering the icon positions.
Again, not too worried – nothing big enough to cause me any trouble.
Kinda Crashy
Even though 42 is much more stable than 4 or 4.2 beta(Nightly neon) its still has a long way to go before it can reach the reliability of KDE 3.5. Still, since I am working on a laptop and not on a server, 42 is more than enough.
Anyway, whenever 42 crashes on you, use this mantra, as I do. Just tell yourself…
It could be a lot worse – I could be using Windows
Tags:
42
,
KDE
,
kde4
,
review
,
shiny
,
stable
Posted in
KDE
,
Opinion
,
Reviews
,
Ubuntu
|
9 Comments »
Written by BinnyVA on January 25, 2009 – 11:55 pm -

As most of you know, Ext3 file system don't have to be defragmented like the FAT32 or NTFS file systems. This is a nice feature – but this has a bad side effect as well. You cannot recover deleted files. This is a good trade-off in a server environment. Its not practical to run a defragmenter on a live server. It might take hours to complete – and disk access will not be allowed in that time. And most server environment have very strong backup mechanisms – so data recovery is not a big issue. But when it comes to the desktop environment, this is a very Bad Thing.
From a desktop user perspective, it is not a huge deal to run a defragmenter once in a while. I used to do it once every month or so when I was on windows. But accidental deletion is a huge problem as most desktop users don't have a very strong backup system in place.
In Windows(FAT32 or NTFS) if you want a deleted file back, there are file recovery software available that might recover the file. There is a good chance of getting back the file in one piece if you try to recover the file soon. But this is not possible in Ext3 – the way the file system is designed makes it next to impossible. This is because the file system will overwrite the deleted portions – to prevent fragmentation of files. The advantage of this method is that fragmentation will be avoided. The disadvantage is, well, you will not be able to recover deleted files.
Solution: The Trash
There is a very simple solution to this problem – but it is something no self respecting geek will use. The Recycle Bin. The Trash Can. Use it.
The problem is I have not seen anyone other than total newbies delete files into the Trash. Most people I know use the Shift+Delete shortcut to delete. I use a slightly different shortcut – Shift+Delete, Enter. That means I don't even see the deletion confirmation prompt. And if when I delete something important, the only thing left to do is cry.
I have several backup systems in place – but you know the Murphy's law when in comes to backups…
You have a backup of everything – except the file that was deleted
So, start using the Trash – do a delete instead of a shift+delete. I would advice removing the confirmation dialog on the delete action to make it go faster. You can do it easily in Konquorer…
Open Konquorer
Setting > Configure Konquorer…
Behavior > Ask Confirmation For
Make sure the 'Move to trash' checkbox is turned off.
I am sure this is possible in Nautilus as well – but I am not sure how to do it. If any of my readers is a gnome user, please post a comment on how to do it.
One last thing – remember to clean the trash once every two days or so.
Tags:
delete
,
ext3
,
fat32
,
fragmentation
,
ntfs
,
recover
,
recovery
,
trash
Posted in
Configuration
,
Opinion
,
Troubleshooting
|
13 Comments »
Written by BinnyVA on January 15, 2009 – 10:49 pm -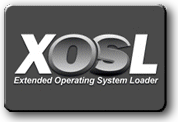 If you have a dual boot system, most of you will be using GRUB as the boot loader – since its the default boot loader. A smaller number will be using LILO – an older software. I use neither – I choose XOSL – or eXtended Operating System Loader as my primary boot loader.
Just to be clear – I do use GRUB – as a secondary boot loader. XOSL is not capable of loading Linux kernel – all it can do is call a loader that is capable of doing that – and GRUB is capable of doing it. So you have to install two software instead of just one – but XOSL is worth it.
Features
Real GUI Interface

Mouse Interaction
Shortcuts
High resolution – more than 1024×768 supported

Timed default OS Loading
Easily Configurable
Flashy GUI Effects – I hate it – but I am sure the Compiz fans will love it
Built in Partition Manager
All this without loading an OS!
The advantage of installing this is you get a boot loader that looks better and is more easier to use than GRUB. All the configuration can be done in the bootloader itself – you don't need to edit the files. Also you can assign shortcuts to each OS you have – so you can press, say, 'w' and boot into windows – rather than stopping the loader, selecting an OS from the menu and then loading it.
Another advantage is that XOSL is easier to install compared to GRUB. If you have to reinstall windows, that will remove GRUB. You might be able to install GRUB after that – but if you have gone through the process, you know its not an easy one. The process of installing XOSL is much easier. You would need a 'Live' DOS CD/DVD(Like FreeDOS). Just boot into it and run the installer in DOS mode.
Disadvantages
Installation requires a FAT32 partition(NTFS and Linux file systems not supported)
Development has stopped
That means your 'C:' drive should be FAT32 – not NTFS. Or, you need a separate dedicated FAT32 partition(with 1 or 2 MB space) for XOSL to work.
Screenshots
Here is how XOSL looks like…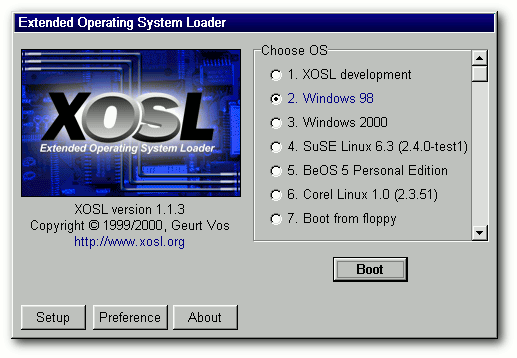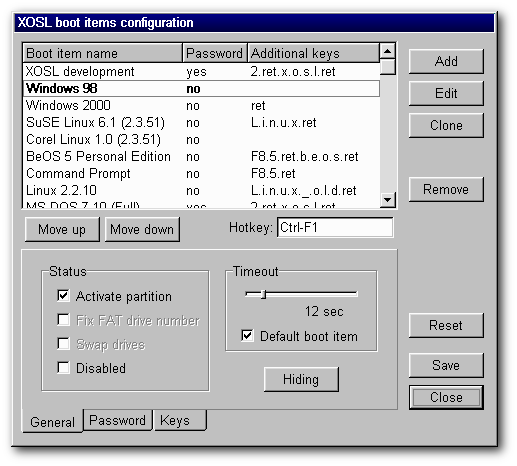 Links
Tags:
boot
,
grub
,
loader
,
xosl
Posted in
Applications
,
Opinion
,
Reviews
|
16 Comments »
Written by BinnyVA on December 25, 2008 – 12:23 am -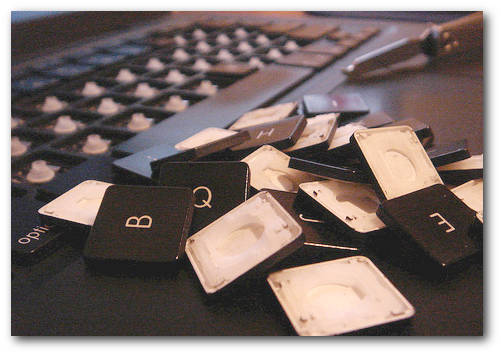 Dvorak is an alternative keyboard layout. Most systems(like 99% of systems) are configured in the Qwerty layout. But some people(like me) have opted for a better layout – Dvorak. Unfortunately, since most people use Qwerty, the support for Dvorak in most OSes/Window Managers leaves a lot to be desired. So I decided to do a comparison of how the major window manages supports Dvorak.
Note: I am biased towards KDE – keep that in mind while going through the article.
Shortcuts
The most biggest problem faced by anyone who switches to the Dvorak layout is the shortcuts problem. Basically, most keyboard shortcuts are created with Qwerty users in mind. Think of the most commanly used shortcuts…
Save – Ctrl+S
Quit – Ctrl+Q
Refresh – Ctrl+R
Find – Ctrl+F
Copy – Ctrl+C
Paste – Ctrl+V
Cut – Ctrl+X
Undo – Ctrl+Z
All that can be done using the left hand in the Qwerty layout – very useful because the right hand might be on the mouse. Also, after a lot of use, these shortcuts becomes muscle memory – you will be pressing the keys without any searching.
But once you move over to Dvorak, these keys are scattered all over the keyboard – most of them needs both hands to press. But a bigger problem is muscle memory – you will be pressing the Qwerty position for the shortcuts even after you have switched over to Dvorak. For example, the 'S' key in Qwerty becomes the 'O' key in Dvorak – every time you try to save a file, you will be calling the open function. Very irritating.
KDE
In KDE you can solve this problem by remapping the shortcut keys. One great feature of KDE is that you can assign shortcuts to almost anything. And an alternative shortcut is available as well. So for, say, Copy, I have assigned the shortcut 'Ctrl+C' and 'Ctrl+J'('C' key becomes 'J' in Dvorak) – so the shortcuts work in Dvorak as well. This makes it easier to switch to Dvorak – but it will take some time to make all the configurations. Another method is to relearn all shortcuts in Dvorak mode – this is what I did eventually.
Gnome
Gnome has a better way of doing this – all you have to do is add the Keyboard Indicator Panel widget. When you are in Dvorak mode and you press the left Ctrl key, it remaps the keyboard to Qwerty mode. So Ctrl+S stays as save in Dvorak mode as well. You will be typing in Dvorak – but when you press the Ctrl key to save, Gnome will remap your keys before you hit the 'S' key – calling the save function. That's neat.
It might be a bit disorienting at first, but I think its a better approach than KDE.
Score
Switching Layouts
You need an easy method to switch layouts – especially if others use your system occasionally. One easy way to do is to click on the keyboard layout indicator on the panel. This is possible in both KDE and Gnome – if you add that widget to your panel.
KDE
In KDE I used to set the shortcuts Ctrl+Alt+L and Ctrl+Alt+P to switch the layouts(P becomes L when switching from Qwerty to Dvorak). But an easier way do this may be to set both Shift key as the switch shortcut. Go to System Settings > Regional & Language > Keyboard Layout > 'Advanced' tab. Then find the 'Both Shift keys together switches layout' option(under Layout Switching). Enable that. Now if you press both shift keys, you can toggle your layout.
Gnome
You can do the same thing in Gnome. Go to System > Preferences > Keyboard > 'Layout Options' tab. Enable the 'Both Shift keys together switches layout' option under Layout Switching.
Actually you can set this option in the /etc/X11/xorg.conf file – just add the line
Option "XkbOptions"     "grp:shift_toggle"
in the Section InputDevice" section.
Score
Both KDE and Gnome gets a cookie.
Layout Indicator
Its important to know which layout is activated – you can do this by pressing the 'S' key – if the outputted char is 'S' then its the qwerty layout. If it is 'O', then you have the Dvorak layout. But it is very helpful to have a visual indicator as well. Both KDE and Gnome provides this option.
KDE
Go to System Settings > Regional & Language > Keyboard Layout. Change label of the layouts to 'Dvo' and 'Qwe' – you can see the label appear in the indicator in the system bar.
Gnome
You have to add the Keyboard Layout Indicator panel widget for this. Now when you switch between layouts, they are shown as USA and USA2. Not as good as what KDE does.
Score
Password Entry
Gnome
Choose System > Lock Screen. The dialog that accepts the password don't have a layout chooser. It shows the current layout – as USA – you have to guess wether it is Dvorak or Qwerty. The password entry will not help you – you cannot see the characters being entered. If you know Dvorak, you can get in by guessing. But if you don't know Dvorak, you will not be able to get in even if you know the password.
KDE
In KDE, this dialog is much better – it shows the current layout – and also provides you an option to switch between them.
Final Score
Related Links
Tags:
comparison
,
dvorak
,
keyboard
,
layout
,
qwerty
Posted in
Gnome
,
KDE
,
Opinion
|
4 Comments »
Written by BinnyVA on October 21, 2008 – 11:42 pm -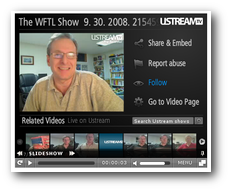 WFTL Bytes "your occasiodaily FOSS and Linux news show" is a video podcast by Marcel Gagné. Go see it – it is Good – Good with a capital 'G'. WFTL Bytes does for Linux what Zero Punctuation does for gaming.
This is WFTL(pronounced 'Wuftal') has to say about itself…
This is WFTL Bytes!, your occasiodaily FOSS news show featuring the latest Linux and FOSS news with your host, Marcel Gagné. WFTL Bytes! is a fast, fun, occasionally a bit goofy, but always informative look at technology news and events as seen from a free and open source software perspective. This includes Linux and everything that that orbits it. Watch! Enjoy! Comment on the stories. I want to know what you think and what you've got to say, either about the show in general, the topics covered, of the stories themselves. Tell your friends, relatives, co-workers . . . tell everybody!
WFTL Bytes does for Linux what Zero Punctuation does for gaming
A Demo
Here is a couple of episodes to get a feel of the show…
That's it folks, go subscribe to WFTL Bytes and check out Marcel's latest press hat. Bye.
Seriously, I'm done. Bye.
Tags:
external
,
review
,
site
,
Video
Posted in
News
,
Opinion
,
Reviews
,
Video
|
1 Comment »
Written by BinnyVA on July 9, 2008 – 10:47 pm -

I have a small but very useful site called txt. Its a collection of code snippets, Linux commands and other such tidbits of information. The posts will be minimal and often crude. The purpose of that site is just to help me remember the information. To make it easier for me to look up the commands later.
For example, say that I need to remove all subversion information from a folder. That means deleting the '.svn' folders in the current folder and all the folders under it. I have used this command before and have saved it to the txt site. So all I have to do is look up the tag that may have this command – in this case, the svn tag.
Soon, I get the page about removing SVN data from a folder. Nifty, huh?
The purpose of this post is two fold. First, I want to introduce you to my txt site – and hopefully get more traffic for that site. Second, and more important purpose is to get you intrested in this idea – to get a similar site for yourself. I saved a lot of time by using that site. Because its online, I was able to use my commands even when away from my computer. And its helpful for others as well.
You can see the reasons for creating the txt site here…
If you want to create a similar site, just go to WordPress and register for a new site. Trust me, its easy. If you have a similar system, please let me know – post a comment.
Tags:
command
,
personal
,
site
,
text
,
txt
Posted in
Command Line
,
Opinion
|
7 Comments »