Posts Tagged 'application'
Written by BinnyVA on June 19, 2009 – 1:19 am -

Terminal GUI Apps? Does sound oxymoronic doesn't it? Well, there are GUI apps in the terminal – and here is a tribute to ones that I find most useful…
top/htop – Process Viewer
From the man page…
The top program provides a dynamic real-time view of a running system. It can display system summary information as well as a list of tasks currently being managed by the Linux kernel. The types of system summary information shown and the types, order and size of information displayed for tasks are all user configurable and that configuration can be made persistent across restarts.
I always have a processor load displaying applet(System Monitor) in my panel. Whenever I see a spike, I fire up a console and type in the top command – its very useful in finding which process is creating the load. Usually, it is some cron job like updatedb or makewhatis. But occasionally, I find a zombie processes this way.
htop is, for the lack of a better word, a better top. It provides a more colorful display(top has a color mode as well – open top and press 'z'). It also makes it a bit more easier to kill processes.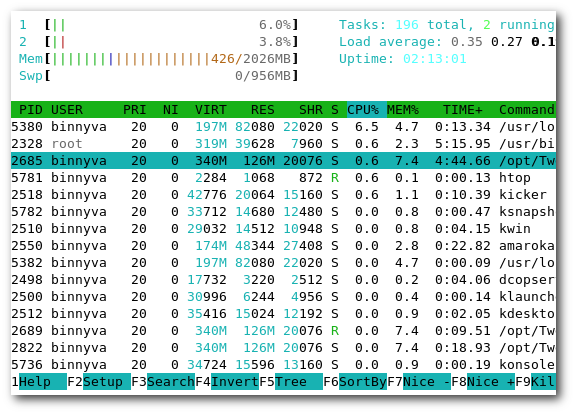 mc – File Manager
mc(or Midnight Commander) is a file manager. Sure you can cp and mv your files around, but after a while, it gets tiring. mc is a dual pane file manager -it means you can see two folders at the same time. You can copy/move files from one to the other, delete, rename, view file etc – in short, everything a file manager is expected to have, mc has.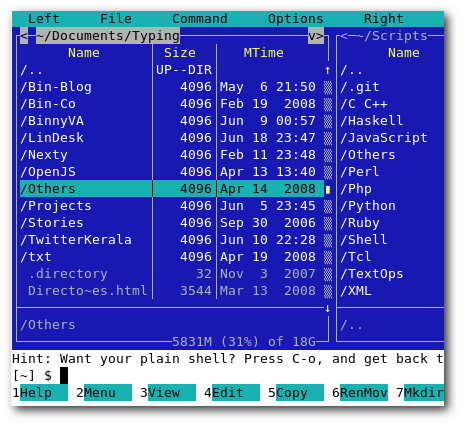 mpg123 – Audio Player
I am not writing too much about this – considering the fact that I have already wrote a post about mpg123/mpg321 in the audio player series.
aptitude
aptitude is a ncurces based GUI for the apt package manage – as a result, this is only available in Debian based systems(Ubuntu, Knopix, etc.). I have not yet seen anyone using aptitude – if they have a GUI system, they use synaptic – and if they are comfortable with the command line, they use apt-get command. But still, there is a middle ground – if for some reason you need it.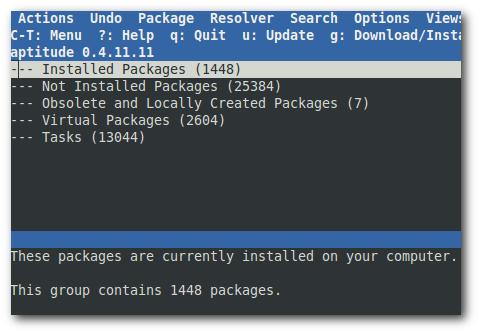 Thanks to Rajesh for the aptitude screenshot.
Anything Else?
Any other Terminal GUI application? I can only think of these at the moment. If you can think of others, comment.
Tags:
application
,
aptitude
,
gui
,
htop
,
mc
,
mpg123
,
review
,
terminal
,
top
Posted in
Applications
,
Command Line
,
Reviews
,
Tools
|
12 Comments »
Written by BinnyVA on September 18, 2008 – 12:37 am -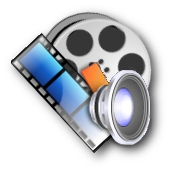 I have used a lot of video players on Linux – and over the time my favorite video player have changed. When I wrote the post Top 5 Video Players in Linux, it was VLC. After that, the position was held by Xine for a long time. But that was before I discovered SMPlayer.
SMPlayer is a front-end for MPlayer, from basic features like playing videos, DVDs, and VCDs to more advanced features like support for MPlayer filters and more.
Features
Remembers the settings of all files you play

So you start to watch a movie but you have to leave… don't worry, when you open that movie again it will resume at the same point you left it, and with the same settings: audio track, subtitles, volume…

Extremely Configurable

This is one feature I absolutely must have in a video player – I want to use very specific settings. And SMPlayer is one of the few players that lets me do that.

Configurable subtitles

You can choose font and size, and even colors for the subtitles. Or you can drag and drop a subtitle file into the player when you are playing a video – the video will use that subtitle file from then on. Or you can automatically get the subtitle of the currently playing film from OpenSubtitles with the click of a button(you need the latest version for this).

Audio track switching.

You can choose the audio track you want to listen. Works with avi and mkv. And of course with DVDs.

Seeking by mouse wheel.

You can use your mouse wheel to go forward or backward in the video.

Video equalizer

Allows you to adjust the brightness, contrast, hue, saturation and gamma of the video image. I have never used this feature – but it might come in handy for a bad quality video.

Multiple speed playback

You can play at 2X, 4X… and even in slow motion. SMPlayer speeds up the audio as well – which is kinda distracting – I wish they would mute it in fast mode.

Filters

Several filters are available: deinterlace, postprocessing, denoise… and even a karaoke filter (voice removal).

Audio and subtitles delay adjustment

Allows you to sync audio and subtitles.

Advanced options

Such as selecting a demuxer or video & audio codecs, providing mplayer command line options and more. Seriously, take a look at the Preferences dialog of this app.

Playlist

Allows you to enqueue several files to be played one after each other. Autorepeat and shuffle supported too.

Multiplatform

Binaries available for Windows and Linux.

Free Software

SMPlayer is under the GPL license.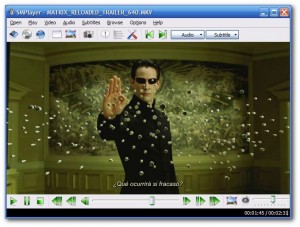 Installing SMPlayer
In Fedora/Red Hat system, you can install SMPlayer using yum…
yum install smplayer
The package name is the same for Ubuntu/Debian systems…
apt-get install smplayer
Or you can download the app from their site and install it manually.
Related Links
Tags:
application
,
player
,
review
,
smplayer
,
Video
Posted in
Applications
,
Reviews
,
Video
|
7 Comments »