Posts Tagged 'Audio'
Written by BinnyVA on April 14, 2008 – 11:48 pm -
MPD is not for everyone.
Before continuing into the article, a word of warning. MPD is not for everyone. If you are a casual desktop linux user with zero geek genes, stay away from this player. There are many other simpler players for you.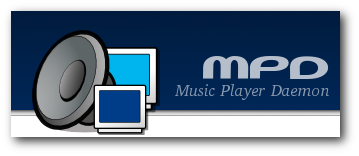 But then again, 'casual desktop linux user' – that sounds like a contradiction in terms. The very fact that you are reading this means that you are a geek.
Getting Started with MPD
Setting up MPD is not as simple as other music players.
Installation
To see MPD in action, first we have to install MPD – and a client. I installed the following…
MPD server
MPC – A command line MPD client
gmpc – A GUI client for Gnome
In a RedHat based system, you can install these using the command…
yum install mpd mpc gmpc
Configuration
Here is where it starts to get a bit confusing. MPD don't have a pretty GUI to go along with it. It has to be configured using a text file. Create a file '.mpdconf' in your home folder and enter the following in it…

port					"6600"
music_directory         "~/Songs"
playlist_directory      "~/.mpd/playlists"
db_file                 "~/.mpd/mpd.db"
log_file                "~/.mpd/mpd.log"
error_file              "~/.mpd/mpd.error"

The 'music_directory'("~/Songs" in our example) must point to the folder where you keep your music. If you have your music in multiple folders then I cannot help you. MPD was designed with just one music root directory in mind.
It is a good idea to create the playlist folder now – it will prevent errors later on. To do that run the command…
mkdir -p ~/.mpd/playlists
Next run these commands…
mpd --create-db
mpc update
mpc add /
mpc play
If all went well, you must be hearing sweet music now. Here is an explanation of the commands we used and their purpose…
mpd –create-db

This will start the daemon. The '–create-db' argument will read the contents of the root music directory and add the Music files to a text database. You should see the list of files being added into the DB. This may take some time to complete – based on size of your music collection.

mpc update

The command used here is 'mpc' – not 'mpd'. We are using a command line client now. This command scans the root music directory for updates.

mpc add /

This command will add all the files in the music directory to the current playlist. Please note that the '/' here means root music directory – and not the global linux root.

mpc play

This will start playing the files in the current playlist.
GUI Clients
There are many GUI clients for MPD – the ones I would recommend are…
Gnome Music Player Client(gmpc)
Sonata
Once the mpd daemon is up and running, just open these clients and click on the connect button to control the daemon using these clients.
Tags:
Audio
,
daemon
,
mp3
,
mpd
,
music
,
player
Posted in
Audio
,
Configuration
|
4 Comments »
Written by BinnyVA on March 22, 2008 – 11:27 pm -

I expected my MP3 player series will end with the last post – but the comments pointed to some other players. Two players stood out – so I decided that I will review them as well. The first one is Listen. Its a Gtk player written in Python.
Features
Supports Shoutcast Webradio
Supports Podcast
Multiple Display modes
Wikipedia Integration
Native Lyrics Support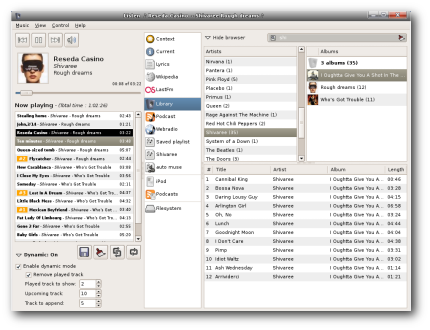 Disadvantages
No Global Shortcuts

At least, none that I could find.

"Interesting" Layout
Advantages
OSD

Shows up on mouse hover and track change.

Tray Icon

Supports play/pause with middle click.

Music Library

Listen has a music library – but it supports only a single folder as its library folder.
More Information
Tags:
Audio
,
Gnome
,
gtk
,
listen
,
mp3
,
music
,
player
,
review
Posted in
Applications
,
Audio
,
Gnome
|
7 Comments »
Written by BinnyVA on March 14, 2008 – 11:11 am -

There are no shortage of audio players in Linux. It has everything from command line MP3 players(mpg123) to RAM eating GUI players(like Amarok). With easily available codecs, linux supports almost all available formats.
This is the final post on a series about MP3 Players in linux. This series focuses on dedicated audio players – not video players that can handle audio as well(like mplayer). Without further ado, presenting the top 10 Linux MP3 players…
1. Amarok

amaroK is currently the player of my choice – it rocks. Everything I ever wanted in a MP3 Player and more. It is the clear winner in this field. In my opinion, there is nothing that beats amarok even if you look at Windows and Mac MP3 players as well.
More Information on Amarok MP3 Player
2. XMMS

A Winamp clone. Simple and user friendly, it is very popular on linux. It does not have a large feature set – but I am going to give it second place due to its popularity.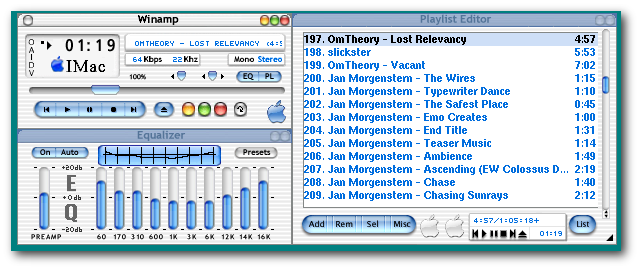 Official Sites for XMMS Player
3. RhythmBox

Rhythmbox Music Player is a music player and library for tagged files, that support various music formats. It was inspired by Apple's iTunes. Although it is designed to work well under the GNOME Desktop, I had no issues with it in KDE.
RhythmBox – Gnome Music Player
Official Sites
4. Exaile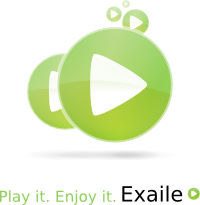 Exaile is a music player aiming to be similar to KDE's Amarok, but for GTK+ and written in Python. It incorporates many of the cool things from Amarok (and other media players)
Exaile – Music Player for Gtk+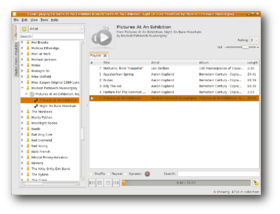 Official Sites
5. Audacious

Audacious is not among the 'star media-players' in Linux – so many people never try it out. But those who have tried it out like it. For the sake of the article, I installed it – and I liked it. I even considered switching from amaroK to Audacious.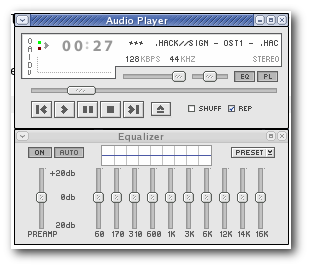 Official Sites
6. Banshee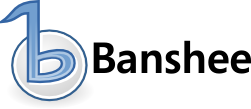 Banshee is an MP3 players for Gnome. You can import, organize, play, and share your music using Banshee's simple, powerful interface.
Banshee – Music Management and Playback for GNOME
Banshee Official Sites
7. SongBird

SongBird is an MP3 player built on the XUL framework. It's a desktop media player mashed-up with the Web.
SongBird – The Firefox of MP3 Players
Official Sites
8. Juk

An audio jukebox that supports collections of MP3, Ogg Vorbis and FLAC files. It is a part of the kdemultimedia package.
9. mpg123/mpg321
mpg123 is a fast, free, minimalist, console MPEG audio player software program for UNIX and Linux operating systems.
mpg123/mpg321 – The Command Line MP3 Players
Official Sites
10. Other MP3 Players and Media Software…
Instead of putting the last MP3 Player here, I am going to list the MP3 software that did not make it to the list…
So, which is your favorite MP3 Player? Leave a comment…
Update: I reviewed two more players…
Tags:
Audio
,
Gnome
,
KDE
,
list
,
mp3
,
music
,
player
,
review
,
software
,
top10
Posted in
Applications
,
Audio
,
Gnome
,
KDE
|
96 Comments »
Written by BinnyVA on January 7, 2008 – 11:12 pm -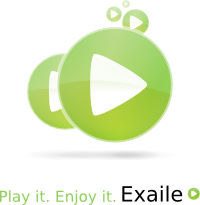 Exaile an amarok clone for Gnome – and I have to admit – I am impressed.
Exaile is a music player aiming to be similar to KDE's Amarok, but for GTK+ and written in Python. It incorporates many of the cool things from Amarok (and other media players) like automatic fetching of album art, handling of large libraries, lyrics fetching, artist/album information via Wikipedia, Last.fm submission support, and optional iPod support via a plugin.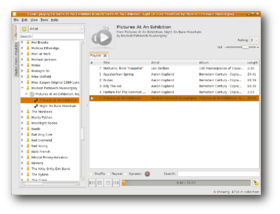 Features
It has many features that make amarok great…
Automatic fetching of album art
Handling large music libraries
Lyrics fetching
Fetches Artist/Album information from Wikipedia
And some features that amarok does not have…
Tabbed playlist interface
Song Blacklist Manager
Disadvantages
I could not find the Global Hotkeys feature
Download
If you want to try exaile, you can download exaile and install it yourself.
Related Links
Tags:
app
,
Audio
,
exaile
,
gtk
,
mp3
,
music
,
player
,
review
Posted in
Applications
,
Audio
,
Gnome
|
8 Comments »
Written by BinnyVA on December 11, 2007 – 10:39 pm -
I just installed Songbird – an MP3 player built on the XUL framework. It is more integrated with the web than any other player I have seen. This is what Songbird have to say about themselves…
Songbird is a desktop media player mashed-up with the Web. Songbird is committed to playing the music you want, from the sites you want, on the devices you want, challenging the conventions of discovery, purchase, consumption and organization of music on the Internet.

Songbird is a player and a platform. Like Firefox, Songbird is an open source, Open Web project built on the Mozilla platform. Songbird provides a public playground for Web media mash-ups by providing developers with both desktop and Web APIs, developer resources and fostering Open Web media standards, to wit, an Open Media Web.
Advantages
Lots of Plugins
Since Songbird uses the XUL Framework extension development is easy for those who have worked on Mozilla extensions. As a result, there are a lot of extensions available.
Web Integration
This makes support for many features possible – like…
Podcasts
MP3 Downloads
Online Music Stores
And More…
Cross Platform
Songbird works on Windows, Linux and Mac. Makes no difference to me – but many will find this useful.
Disadvantages
Dark Default Skin
The default skin(or feather, as its know in Songbird) is too 'flashy' for my taste. I like simple, easy to use/navigate GUI. The Songbird interface is nothing like that – at least not for me.
Since the default skin is inspired by iTunes, this might be an advantage for iTunes users. For others, this issue is easily solvable – just install another skin.
Bugs
I downloaded the latest 'Developer Pre-release' version – so I found some bugs. But I am sure this will be removed in the stable release.
Related Links
Tags:
Audio
,
mp3
,
review
,
software
,
songbird
,
xul
Posted in
Applications
,
Audio
|
8 Comments »