Posts Tagged 'Fedora'
Written by BinnyVA on May 20, 2008 – 10:11 pm -

As promised, I installed Fedora 9 – and promptly moved back to Fedora 8. The problem is not Fedora – its KDE. KDE 4 is not yet ready for normal use. And if you are a KDE user, I would suggest that you stay away from Fedora 9.
The purpose of KDE 4 is to make KDE compactable with Qt4. Its not for actual use. Sure, it could be used as a desktop, but it will lack many features that you expect in KDE.
I am surprised that Fedora decided to include KDE4 – despite its 'alpha-ness'. But they have their reasons
Problems With KDE4
Customizable Panel

I could not find any options to customizing the panel – KDE 3.5 have a lot of options.

Many Options/Settings are missing.

It will be coming in the future releases – but its missing now.

Desktop Icons have no consistency

Some icons are bigger than others. On the other hand, you can rotate these icons – but I fail to see any practical application for that.

And many more…

Random crashes, dolphin, irremovable 'Add Plasmoid' option on the desktop, etc.
Long story short, I am back in Fedora 8. And I will be on it until Fedora 10 is out. And even then, I'll wait some time before upgrading.
Links
Fedora 9/KDE4 Positive Reviews
And the Negative Ones…
Tags:
Fedora
,
install
,
KDE
,
review
,
upgrade
Posted in
Fedora
,
KDE
|
9 Comments »
Written by BinnyVA on May 13, 2008 – 11:33 pm -
Fedora 9 has been released – I have been waiting for this. For those of you who don't know, Fedora is my distro of choice. I have been using Fedora since Fedora Core 3. And I will be upgrading to the latest release as soon as I get my hands on it.

I have started the download – but I have a 256kbps internet connection – and it will take around 4 days for the download to complete. After the install, I will write a review on it. I can't wait to see the new KDE!
I have began a process of backing up my data so that nothing will be lost during the upgrade. No matter how careful I am, I always manage to loose something in the upgrade. Yeah, I know – Murphy's Law. I hate Murphy. I am waiting to see what I loose this time. Last time it was my database. Luckily I was able to restore it from my backup – but the data entered after the backup was lost.
Fedora 9 Links
Fedora and Me: A History
All Posts in the Fedora Category
Tags:
Fedora
,
linux
,
News
,
release
,
sulphur
Posted in
Distros
,
Fedora
,
News
|
5 Comments »
Written by BinnyVA on February 19, 2008 – 12:08 am -

If you are using Fedora 8 with KDE you may have noticed an interesting bug. Once you open some Gnome apps(for example, Exile, all the fonts in the KDE applications becomes one size smaller.
If this happens, the only way to fix it is to restart the X server – or so I thought. At first, I thought it was the issue of just one application – namely RhythmBox.
But I just found that there is a simple fix for this problem…
Run the command 'gnome-appearance-properties'
Go to the 'Fonts' Tab
Click on the 'Details' Button at the bottom
Change the Resolution to 96 Dots per Inch(DPI)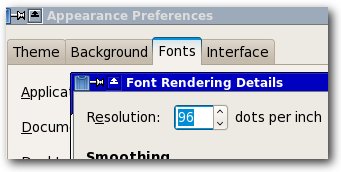 That should solve your problem.
This issue appears only if your screen resolution is bigger than normal – mine is 1440×900.
Tags:
dpi
,
Fedora
,
font
,
KDE
,
resolution
,
size
Posted in
Fedora
,
Gnome
,
KDE
,
Troubleshooting
|
No Comments »