Posts Tagged 'KDE'
Written by BinnyVA on February 6, 2009 – 12:59 am -

I have upgraded my laptop(Kubuntu 8.10) to KDE 4.2. And all is well. The laptop did not, I repeat, did not explode. As a matter of fact, its been on KDE 4.2 for the last whole week – I never got to write anything about it because of my busy schedule. For the rest of the article, I have to write 'KDE 4.2' lots of time. To save some time, I am going to short it to 42. Seems appropriate. So when ever you see '42', mentally replace it with 'KDE 4.2'
42 looks good. And by 'looks good' I don't mean all those fancy effects. I mean it's usable – unlike its 4.x predecessors. You can actually get things done on it. You don't have to hit save every other second because you know that the inevitable crash is just around the corner. 42 fixes most of the glaring errors in the earlier releases.
And it does look good – yes, visually this time. They really got into gradients and shadows in this release. Lots of fancy effects as well. Some of them are actually useful, to my surprise. Usually, I just ignore the shiny things – but the 'Present Windows' mode have changed my mind. It is a effect that actually has a use. To enable it, go to System Settings > Desktop > Desktop Effects. Now set the 'Effect for Switching Windows' to Present Windows.
For all you screenshot fans, here is a nice one…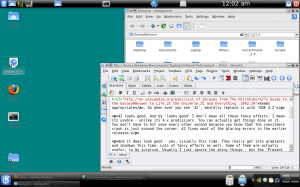 Still, I have some complaints…
Missing Widgets/Plasmoids/Whatever
Command Widget

I want a input area in my panel that can be used to execute commands. The new Run dialog is useless for this purpose.

Bookmark Widget

In the old KDE, there was an option to add the Konqueror bookmarks to the panel – this was very, very useful for me. I cannot find this in the new version.
I am not really worried about these – I am sure the KDE team will add these soon. If they fail, there is always KDE-Look.org. If they don't have one, well, I could always write one myself. Tinkerability is one of the main reason I love FOSS!
Bugs
There is still a few bugs left – and for some reason, most of the bugs I notice seems to be in the panel side.
I have two panels – the bottom(with taskbar, system tray, pager, etc) and top panel(clock, quick launch, etc). Unfortunately, my top panel is having a lot of troubles. I cannot position the icons correctly – some widgets(like clock, quick launch, etc.) try to take up way more space that they actually need.
Also the folder view desktop mode seems to have a problem remembering the icon positions.
Again, not too worried – nothing big enough to cause me any trouble.
Kinda Crashy
Even though 42 is much more stable than 4 or 4.2 beta(Nightly neon) its still has a long way to go before it can reach the reliability of KDE 3.5. Still, since I am working on a laptop and not on a server, 42 is more than enough.
Anyway, whenever 42 crashes on you, use this mantra, as I do. Just tell yourself…
It could be a lot worse – I could be using Windows
Tags:
42
,
KDE
,
kde4
,
review
,
shiny
,
stable
Posted in
KDE
,
Opinion
,
Reviews
,
Ubuntu
|
9 Comments »
Written by BinnyVA on May 20, 2008 – 10:11 pm -

As promised, I installed Fedora 9 – and promptly moved back to Fedora 8. The problem is not Fedora – its KDE. KDE 4 is not yet ready for normal use. And if you are a KDE user, I would suggest that you stay away from Fedora 9.
The purpose of KDE 4 is to make KDE compactable with Qt4. Its not for actual use. Sure, it could be used as a desktop, but it will lack many features that you expect in KDE.
I am surprised that Fedora decided to include KDE4 – despite its 'alpha-ness'. But they have their reasons
Problems With KDE4
Customizable Panel

I could not find any options to customizing the panel – KDE 3.5 have a lot of options.

Many Options/Settings are missing.

It will be coming in the future releases – but its missing now.

Desktop Icons have no consistency

Some icons are bigger than others. On the other hand, you can rotate these icons – but I fail to see any practical application for that.

And many more…

Random crashes, dolphin, irremovable 'Add Plasmoid' option on the desktop, etc.
Long story short, I am back in Fedora 8. And I will be on it until Fedora 10 is out. And even then, I'll wait some time before upgrading.
Links
Fedora 9/KDE4 Positive Reviews
And the Negative Ones…
Tags:
Fedora
,
install
,
KDE
,
review
,
upgrade
Posted in
Fedora
,
KDE
|
9 Comments »
Written by BinnyVA on March 14, 2008 – 11:11 am -

There are no shortage of audio players in Linux. It has everything from command line MP3 players(mpg123) to RAM eating GUI players(like Amarok). With easily available codecs, linux supports almost all available formats.
This is the final post on a series about MP3 Players in linux. This series focuses on dedicated audio players – not video players that can handle audio as well(like mplayer). Without further ado, presenting the top 10 Linux MP3 players…
1. Amarok

amaroK is currently the player of my choice – it rocks. Everything I ever wanted in a MP3 Player and more. It is the clear winner in this field. In my opinion, there is nothing that beats amarok even if you look at Windows and Mac MP3 players as well.
More Information on Amarok MP3 Player
2. XMMS

A Winamp clone. Simple and user friendly, it is very popular on linux. It does not have a large feature set – but I am going to give it second place due to its popularity.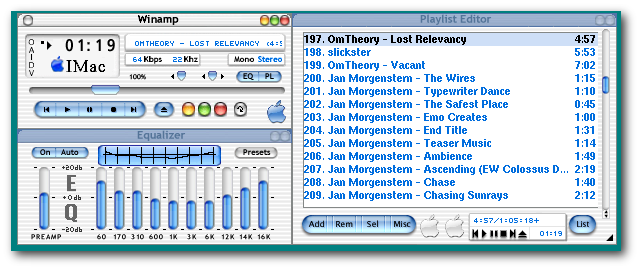 Official Sites for XMMS Player
3. RhythmBox

Rhythmbox Music Player is a music player and library for tagged files, that support various music formats. It was inspired by Apple's iTunes. Although it is designed to work well under the GNOME Desktop, I had no issues with it in KDE.
RhythmBox – Gnome Music Player
Official Sites
4. Exaile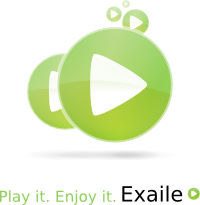 Exaile is a music player aiming to be similar to KDE's Amarok, but for GTK+ and written in Python. It incorporates many of the cool things from Amarok (and other media players)
Exaile – Music Player for Gtk+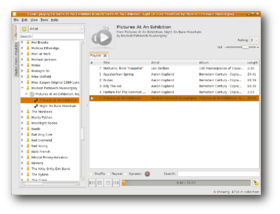 Official Sites
5. Audacious

Audacious is not among the 'star media-players' in Linux – so many people never try it out. But those who have tried it out like it. For the sake of the article, I installed it – and I liked it. I even considered switching from amaroK to Audacious.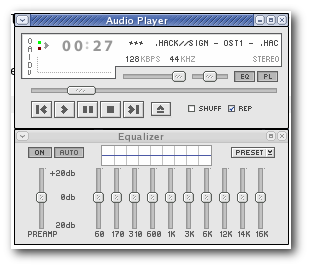 Official Sites
6. Banshee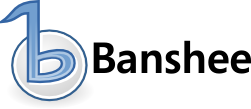 Banshee is an MP3 players for Gnome. You can import, organize, play, and share your music using Banshee's simple, powerful interface.
Banshee – Music Management and Playback for GNOME
Banshee Official Sites
7. SongBird

SongBird is an MP3 player built on the XUL framework. It's a desktop media player mashed-up with the Web.
SongBird – The Firefox of MP3 Players
Official Sites
8. Juk

An audio jukebox that supports collections of MP3, Ogg Vorbis and FLAC files. It is a part of the kdemultimedia package.
9. mpg123/mpg321
mpg123 is a fast, free, minimalist, console MPEG audio player software program for UNIX and Linux operating systems.
mpg123/mpg321 – The Command Line MP3 Players
Official Sites
10. Other MP3 Players and Media Software…
Instead of putting the last MP3 Player here, I am going to list the MP3 software that did not make it to the list…
So, which is your favorite MP3 Player? Leave a comment…
Update: I reviewed two more players…
Tags:
Audio
,
Gnome
,
KDE
,
list
,
mp3
,
music
,
player
,
review
,
software
,
top10
Posted in
Applications
,
Audio
,
Gnome
,
KDE
|
96 Comments »
Written by BinnyVA on February 19, 2008 – 12:08 am -

If you are using Fedora 8 with KDE you may have noticed an interesting bug. Once you open some Gnome apps(for example, Exile, all the fonts in the KDE applications becomes one size smaller.
If this happens, the only way to fix it is to restart the X server – or so I thought. At first, I thought it was the issue of just one application – namely RhythmBox.
But I just found that there is a simple fix for this problem…
Run the command 'gnome-appearance-properties'
Go to the 'Fonts' Tab
Click on the 'Details' Button at the bottom
Change the Resolution to 96 Dots per Inch(DPI)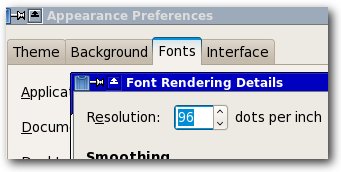 That should solve your problem.
This issue appears only if your screen resolution is bigger than normal – mine is 1440×900.
Tags:
dpi
,
Fedora
,
font
,
KDE
,
resolution
,
size
Posted in
Fedora
,
Gnome
,
KDE
,
Troubleshooting
|
No Comments »