Posts Tagged 'local'
Written by BinnyVA on October 29, 2008 – 12:48 am -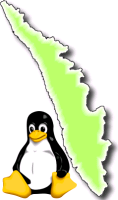 Freedom Walk is an initiative to promote Free software by walking across Kerala. Here is a description about their walk in their own terms…
Freedom walk is a project aimed at spreading the message of 'Freedom in Society', 'Freedom from Environmental Issues', and 'Freedom in Software' and to promote activism around these freedoms. As part of this mobilization campaign a team of volunteers are going to walk from Kasargode to Trivandrum and organize seminars and talks on these freedoms at educational institutions and non profit organizations.

Additionally we hope to connect with people and organizations who share our vision and to work together for our common cause. We are also planning to launch a collaboration platform for such individuals and organizations to help them to work together and also to harness the power of the web to improve their efficiency.
For all you international readers(readers outside India), you may have heard of our state Kerala with respect to linux and free software. Our government switched from Windows to Linux in all government schools.
Cochin
Today the group – Anoop John, Cherry and Sooraj – reached Cochin – my city. So me and a few guys from our local LUG group decided to join them. We walked across the city stopping at collages and some institutions to present our case. It was a great experience – but I have to admit – my legs are in a bad shape right now.
More Details
More details on today's walk will be posted on ILug Cochin site.
Some organizations that were involved…
More details and photos available at the Freedom Walk website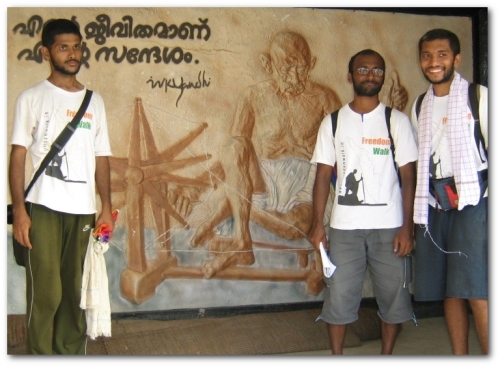 Tags:
cochin
,
event
,
freedom
,
ilug
,
kerala
,
local
,
lug
,
walk
Posted in
News
|
3 Comments »
Written by BinnyVA on July 26, 2008 – 10:47 pm -

Windows has a nice feature in Networking – you just configure the IPs correctly, and the network sharing "magically" works. In Linux we will have to manually configure Samba or some other similar tool to share files between two linux systems – and that's a bit daunting for a new user. But there is an easier way – using SSH.
SSH or Secure Shell is a program for logging into a remote machine and executing commands on a that machine. Don't worry – you won't have to type commands to transfer files – there are GUI clients that supports SSH protocol – for example, the great Konqueror.
SSH is installed and turned on in most distros – so chances are you are running an SSH server at the moment. But if its not installed by default, you can install it using these commands…
In Fedora/Red Hat
yum install openssh
In Ubuntu/Debian
apt-get install openssh
After installing it, you have to activate it in the Services configuration utility. Once that is done, SSH will turned on at boot. Make sure the remote machine have SSH installed and running before trying to connect to it.
An Example Implementation
I use SSH to transfer files between my system and my brothers system. This will give you an overview of the network…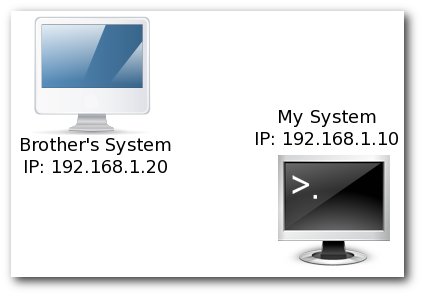 Both the systems have SSH enabled. Now if I want to get some files from my brother's system, all I have to do is open Konqueror and enter this address in the Address bar: fish://username@192.168.1.20
That is fish://[Remote User]@[Remote Machine's IP/Name].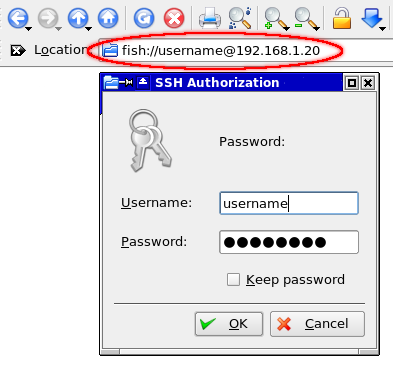 This will show a password prompt – where you have to input the password of the remote user. Once that is done, you will see all the files in the remote machine that is accessable by the user you logged in as. All operation you are used to in Konqueror are still supported – Copy/Paste, Drag and Drop etc – they will work between the local system and the remote machine.
If you are a Gnome user, this is possible in Nautilus as well. Instead of fish://username@192.168.1.20 , you have to enter ssh://username@192.168.1.20 in the address bar – protocol is ssh:// instead of fish://.
Limitations
Keep in mind that this is practical only for small home networks. If you are implementing a large network with permission settings, shares and stuff, go with Samba. SSH is not a choice there.
Tags:
fish
,
konquoror
,
local
,
network
,
remote
,
share
,
ssh
Posted in
KDE
,
Networking
,
Tools
|
4 Comments »