Posts Tagged 'review'
Written by BinnyVA on January 7, 2008 – 11:12 pm -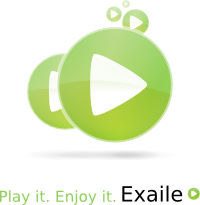 Exaile an amarok clone for Gnome – and I have to admit – I am impressed.
Exaile is a music player aiming to be similar to KDE's Amarok, but for GTK+ and written in Python. It incorporates many of the cool things from Amarok (and other media players) like automatic fetching of album art, handling of large libraries, lyrics fetching, artist/album information via Wikipedia, Last.fm submission support, and optional iPod support via a plugin.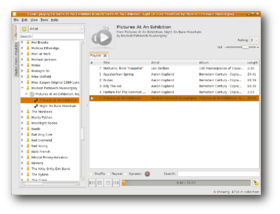 Features
It has many features that make amarok great…
Automatic fetching of album art
Handling large music libraries
Lyrics fetching
Fetches Artist/Album information from Wikipedia
And some features that amarok does not have…
Tabbed playlist interface
Song Blacklist Manager
Disadvantages
I could not find the Global Hotkeys feature
Download
If you want to try exaile, you can download exaile and install it yourself.
Related Links
Tags:
app
,
Audio
,
exaile
,
gtk
,
mp3
,
music
,
player
,
review
Posted in
Applications
,
Audio
,
Gnome
|
8 Comments »
Written by BinnyVA on December 11, 2007 – 10:39 pm -
I just installed Songbird – an MP3 player built on the XUL framework. It is more integrated with the web than any other player I have seen. This is what Songbird have to say about themselves…
Songbird is a desktop media player mashed-up with the Web. Songbird is committed to playing the music you want, from the sites you want, on the devices you want, challenging the conventions of discovery, purchase, consumption and organization of music on the Internet.

Songbird is a player and a platform. Like Firefox, Songbird is an open source, Open Web project built on the Mozilla platform. Songbird provides a public playground for Web media mash-ups by providing developers with both desktop and Web APIs, developer resources and fostering Open Web media standards, to wit, an Open Media Web.
Advantages
Lots of Plugins
Since Songbird uses the XUL Framework extension development is easy for those who have worked on Mozilla extensions. As a result, there are a lot of extensions available.
Web Integration
This makes support for many features possible – like…
Podcasts
MP3 Downloads
Online Music Stores
And More…
Cross Platform
Songbird works on Windows, Linux and Mac. Makes no difference to me – but many will find this useful.
Disadvantages
Dark Default Skin
The default skin(or feather, as its know in Songbird) is too 'flashy' for my taste. I like simple, easy to use/navigate GUI. The Songbird interface is nothing like that – at least not for me.
Since the default skin is inspired by iTunes, this might be an advantage for iTunes users. For others, this issue is easily solvable – just install another skin.
Bugs
I downloaded the latest 'Developer Pre-release' version – so I found some bugs. But I am sure this will be removed in the stable release.
Related Links
Tags:
Audio
,
mp3
,
review
,
software
,
songbird
,
xul
Posted in
Applications
,
Audio
|
8 Comments »
Written by BinnyVA on December 2, 2007 – 10:52 pm -

Rhythmbox Music Player is a music player and library for tagged files, that support various music formats. It was inspired by Apple's iTunes. Although it is designed to work well under the GNOME Desktop, I had no issues with it in KDE. RhythmBox uses the GStreamer media framework. It is currently under active development.
Advantages
Clean Look

While other players aim to make their software flashy and full of features, RhythmBox went for simplicity. The inferface is very direct and easy to use.

Browse Mode

This is an easy way to browse through a large music collection.

Global Shortcut Available

I don't know how – but Global Shortcuts are available. There is no option for it – but one of my global shortcuts – Ctrl+Alt+Home for Play/Pause works.
Disadvantages
Music Library

All your music must be within one folder if you want to use RhythmBox's Music Library. You can set only one folder as the 'Library Location'. This option is available at 'Edit > Preferences > 'Music' Tab > Library Location

Font Bug

When I start RhythmBox, the font of all application becomes one size smaller. I think this is a bug that is limited to KDE – but still very irritating. The only way to fix this is restart the X Server

Play Queue

At the top left corner, in the Library column, there is a Option called 'Play Queue' – don't mistake it for Playlist. This is a Queue of all the songs that must be played. If you try to play any song in that list, that song will jump to the top.

Minimize to System Tray

To hide the player don't close it – that will quit the application. If you minimize it, it goes to the taskbar – I want to minimize it to the system tray. To do that, just click on the RhythmBox icon in the system tray. It take a little getting used to – but a workable method.
Tags:
Gnome
,
mp3
,
music
,
review
,
rhythmbox
,
software
Posted in
Applications
,
Audio
|
11 Comments »
Written by BinnyVA on September 30, 2007 – 10:37 pm -

My favorite music player in Linux is amaroK. But, despite all its advantages, there are some areas where amaroK could have done better.
Show Current Song Title on Mouseover
Currently, there is no way I can know what song is playing without opening the application window. In the XMMS Status docklet, the name of the current song will popup if you hover over the system tray icon for some time. Although amaroK shows the song title on song change, it is not shown on mouseover.
Update: amarok has this feature – but some bug in Fedora Core disables it.
Repeat Loop for Artist
amaroK has three different repeat modes…
Repeat entire playlist
Repeat current album
Repeat current track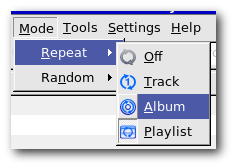 I would like another repeat loop – 'Repeat Current Artist'
Repeat loop for all queued tracks
Yet another repeat loop I would like is 'Repeat all Queued Tracks'.
Less Processor Intensive
One of my main complaints about amaroK is that it is kinda processor intensive. Even when the application is minimized to the system tray, amaroK is at the top in the list of the 'top' command. I am not sure that anything can be done about this – decoding MP3 involves a bit of crunching.
Songs must start from the beginning on application launch
Amarok has a feature called 'Resume playback on start' – if it is enabled, amaroK will automatically start playing the last played song on startup. The problem is that the song don't begin at the beginning – it start from the point at which we quit last time. If you quit amaroK at the middle of a song, the next time you start amaroK, it will automatically start playing from the beginning of that song.
This is a very useful feature – I have it enabled. However, I want the song to start from the beginning.
If you want to enable this feature, it can be found here…
Settings > Configure Amarok > Playback > Resume playback on start
That's my list for now – do you want to add anything to this list? Leave it in the comment section.
Tags:
amarok
,
improvement
,
mp3
,
review
,
software
Posted in
Applications
,
Audio
|
6 Comments »
Written by BinnyVA on September 23, 2007 – 11:12 pm -

amaroK is currently the player of my choice – it rocks. Everything I ever wanted in a MP3 Player and more.
Global Shortcuts
I must be able to control some functions in the player like Play/Pause, Next/Previous song etc. with the keyboard without having to open the software. For example, you are banging away at your keyboard creating the next big thing. Suddenly someone calls you – but you can't make out what they are trying to say because you are playing music at volumes that makes it audible to a deaf man halfway round the world. Now you have to open up the player, find the pause button(in some winamp skins, they are nearly impossible to find), pause the song and then try to listen to what someone was screaming about.
Wouldn't it be great if you could just press a keyboard combination from any app and your player pauses? Winamp(version 5 onwards) had this feature if you enabled a plugin called Global Hotkeys. amaroK supports this feature natively – amarok->Settings->Configure Global Shortcuts.
Stays in the System Tray
Another must have feature – when I listen to music I don't want to see the application that plays it. I don't want to see some any stupid visualizations. I don't want to see any dancing pixies. In short, all I want from a player is hear the music – not play some animation that's eating my CPU cycles.
The best way to make sure of this is if the app stays in the system tray(or status bar). And amaroK does that. Some basic operation(play/pause, stop, etc.) are available from the right click menu of amaroK icon in the system tray.
There is also a hidden feature – just bring you mouse over the amaroK icon in the system tray any scroll the mouse wheel down – this reduces the volume!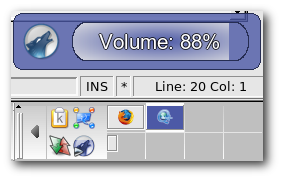 But I have one complaint about that – there is no way I can know what song is playing. In the XMMS Status docklet, the name of the currently song will popup if you hover over the icon for some time. That is not possible in AmaroK.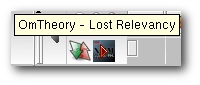 Update: Amarok has this feature – but in Fedora, its disabled. Some bug, I guess
Other Cool Features…
Media Library
Fetches Lyrics/Artist Info from the Web
Supports Podcasts
Inbuilt Bulk MP3 Tag editor
Able to access MP3 players(the hardware players – you know – like iPod)
For More Information
Tags:
amarok
,
mp3
,
review
,
software
Posted in
Applications
,
Audio
,
KDE
|
17 Comments »