Terminal GUI Apps? Does sound oxymoronic doesn't it? Well, there are GUI apps in the terminal – and here is a tribute to ones that I find most useful…
top/htop – Process Viewer
From the man page…
The top program provides a dynamic real-time view of a running system. It can display system summary information as well as a list of tasks currently being managed by the Linux kernel. The types of system summary information shown and the types, order and size of information displayed for tasks are all user configurable and that configuration can be made persistent across restarts.
I always have a processor load displaying applet(System Monitor) in my panel. Whenever I see a spike, I fire up a console and type in the top command – its very useful in finding which process is creating the load. Usually, it is some cron job like updatedb or makewhatis. But occasionally, I find a zombie processes this way.
htop is, for the lack of a better word, a better top. It provides a more colorful display(top has a color mode as well – open top and press 'z'). It also makes it a bit more easier to kill processes.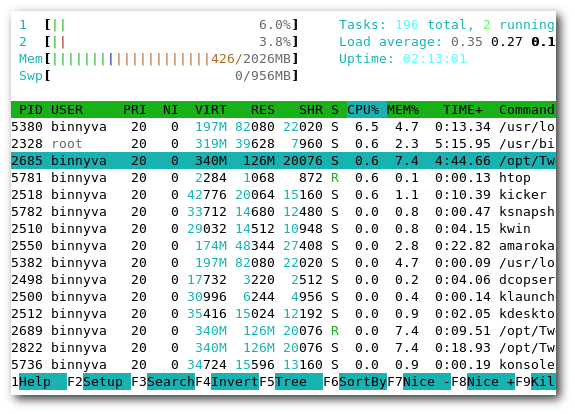 mc – File Manager
mc(or Midnight Commander) is a file manager. Sure you can cp and mv your files around, but after a while, it gets tiring. mc is a dual pane file manager -it means you can see two folders at the same time. You can copy/move files from one to the other, delete, rename, view file etc – in short, everything a file manager is expected to have, mc has.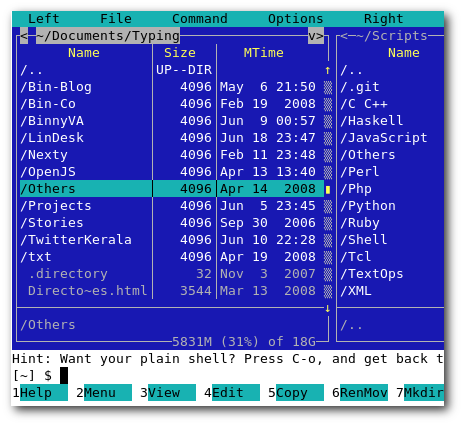 mpg123 – Audio Player
I am not writing too much about this – considering the fact that I have already wrote a post about mpg123/mpg321 in the audio player series.
aptitude
aptitude is a ncurces based GUI for the apt package manage – as a result, this is only available in Debian based systems(Ubuntu, Knopix, etc.). I have not yet seen anyone using aptitude – if they have a GUI system, they use synaptic – and if they are comfortable with the command line, they use apt-get command. But still, there is a middle ground – if for some reason you need it.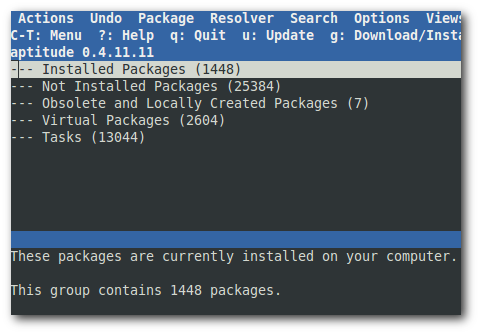 Thanks to Rajesh for the aptitude screenshot.
Anything Else?
Any other Terminal GUI application? I can only think of these at the moment. If you can think of others, comment.