My favorite music player in Linux is amaroK. But, despite all its advantages, there are some areas where amaroK could have done better.
Show Current Song Title on Mouseover
Currently, there is no way I can know what song is playing without opening the application window. In the XMMS Status docklet, the name of the current song will popup if you hover over the system tray icon for some time. Although amaroK shows the song title on song change, it is not shown on mouseover.
Update: amarok has this feature – but some bug in Fedora Core disables it.
Repeat Loop for Artist
amaroK has three different repeat modes…
Repeat entire playlist
Repeat current album
Repeat current track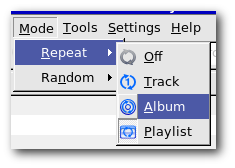 I would like another repeat loop – 'Repeat Current Artist'
Repeat loop for all queued tracks
Yet another repeat loop I would like is 'Repeat all Queued Tracks'.
Less Processor Intensive
One of my main complaints about amaroK is that it is kinda processor intensive. Even when the application is minimized to the system tray, amaroK is at the top in the list of the 'top' command. I am not sure that anything can be done about this – decoding MP3 involves a bit of crunching.
Songs must start from the beginning on application launch
Amarok has a feature called 'Resume playback on start' – if it is enabled, amaroK will automatically start playing the last played song on startup. The problem is that the song don't begin at the beginning – it start from the point at which we quit last time. If you quit amaroK at the middle of a song, the next time you start amaroK, it will automatically start playing from the beginning of that song.
This is a very useful feature – I have it enabled. However, I want the song to start from the beginning.
If you want to enable this feature, it can be found here…
Settings > Configure Amarok > Playback > Resume playback on start
That's my list for now – do you want to add anything to this list? Leave it in the comment section.