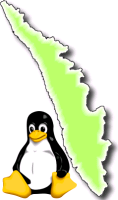 Freedom Walk is an initiative to promote Free software by walking across Kerala. Here is a description about their walk in their own terms…
Freedom walk is a project aimed at spreading the message of 'Freedom in Society', 'Freedom from Environmental Issues', and 'Freedom in Software' and to promote activism around these freedoms. As part of this mobilization campaign a team of volunteers are going to walk from Kasargode to Trivandrum and organize seminars and talks on these freedoms at educational institutions and non profit organizations.

Additionally we hope to connect with people and organizations who share our vision and to work together for our common cause. We are also planning to launch a collaboration platform for such individuals and organizations to help them to work together and also to harness the power of the web to improve their efficiency.
For all you international readers(readers outside India), you may have heard of our state Kerala with respect to linux and free software. Our government switched from Windows to Linux in all government schools.
Cochin
Today the group – Anoop John, Cherry and Sooraj – reached Cochin – my city. So me and a few guys from our local LUG group decided to join them. We walked across the city stopping at collages and some institutions to present our case. It was a great experience – but I have to admit – my legs are in a bad shape right now.
More Details
More details on today's walk will be posted on ILug Cochin site.
Some organizations that were involved…
More details and photos available at the Freedom Walk website