I expected my MP3 player series will end with the last post – but the comments pointed to some other players. Two players stood out – so I decided that I will review them as well. The first one is Listen. Its a Gtk player written in Python.
Features
Supports Shoutcast Webradio
Supports Podcast
Multiple Display modes
Wikipedia Integration
Native Lyrics Support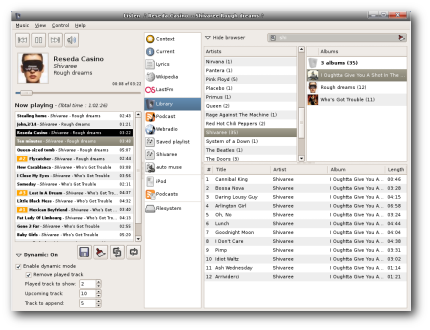 Disadvantages
No Global Shortcuts

At least, none that I could find.

"Interesting" Layout
Advantages
OSD

Shows up on mouse hover and track change.

Tray Icon

Supports play/pause with middle click.

Music Library

Listen has a music library – but it supports only a single folder as its library folder.
More Information