amaroK is currently the player of my choice – it rocks. Everything I ever wanted in a MP3 Player and more.
Global Shortcuts
I must be able to control some functions in the player like Play/Pause, Next/Previous song etc. with the keyboard without having to open the software. For example, you are banging away at your keyboard creating the next big thing. Suddenly someone calls you – but you can't make out what they are trying to say because you are playing music at volumes that makes it audible to a deaf man halfway round the world. Now you have to open up the player, find the pause button(in some winamp skins, they are nearly impossible to find), pause the song and then try to listen to what someone was screaming about.
Wouldn't it be great if you could just press a keyboard combination from any app and your player pauses? Winamp(version 5 onwards) had this feature if you enabled a plugin called Global Hotkeys. amaroK supports this feature natively – amarok->Settings->Configure Global Shortcuts.
Stays in the System Tray
Another must have feature – when I listen to music I don't want to see the application that plays it. I don't want to see some any stupid visualizations. I don't want to see any dancing pixies. In short, all I want from a player is hear the music – not play some animation that's eating my CPU cycles.
The best way to make sure of this is if the app stays in the system tray(or status bar). And amaroK does that. Some basic operation(play/pause, stop, etc.) are available from the right click menu of amaroK icon in the system tray.
There is also a hidden feature – just bring you mouse over the amaroK icon in the system tray any scroll the mouse wheel down – this reduces the volume!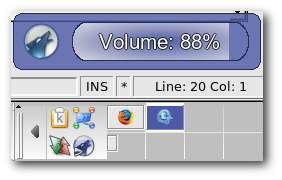 But I have one complaint about that – there is no way I can know what song is playing. In the XMMS Status docklet, the name of the currently song will popup if you hover over the icon for some time. That is not possible in AmaroK.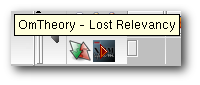 Update: Amarok has this feature – but in Fedora, its disabled. Some bug, I guess
Other Cool Features…
Media Library
Fetches Lyrics/Artist Info from the Web
Supports Podcasts
Inbuilt Bulk MP3 Tag editor
Able to access MP3 players(the hardware players – you know – like iPod)
For More Information