Audacious is not among the 'star media players' in Linux – so many people never try it out. But those who have tried it out like it. For the sake of this article, I installed it – and I liked it. I even considered switching from amaroK to Audacious.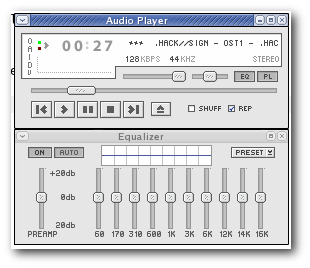 Most of the features I wanted in an MP3 player is present in Audacious. They where not turned on by default – but it was easy enough to enable the plugin.
Advantages
System Tray

Just enable the plugin called Status Icon. And the system tray hover information is one of the best I have seen yet…


Global Hotkeys

This feature is available using a plugin called Global Hotkeys(for version 1.4+). I have not managed to install this plugin yet – so I cannot comment on it.

OSD

There is a OSD plugin that shows the name of the song on song change.
Disadvantages
However, there are some problems as well…
No Media Library

I don't expect Audacious to get one without sacrificing the 'simple/easy to use' advantage.

Playlist Scrolling is Slow

I noticed that the the playlist does not scroll smoothly if you have a lot of songs. This may be problem in just my system – could anyone confirm this?
Conclusion
I am forced to conclude that Audacious is better than XMMS for those who are searching for a simple MP3 software. But for those searching for more advanced features, amaroK might be a better choice – and for that reason I as sticking with Amarok.
Related Sites